Strategic Healthcare Programs (SHP) is pleased to announce that we are in the process of developing a new Hospice Scorecard reporting suite that will be made available to all hospice organizations that utilize the SHP for Hospice solution. We are adding this unique suite of reports to meet hospices' pressing need to measure, manage, and report quality by Case Manager, Team, Referral Source, Primary Payer, Primary Diagnosis, and more.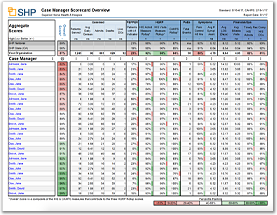 The two reports in this new suite function as a pair. The Overview report shows a summary of performance with a row for each entity. The Scorecard detail report provides a more detailed, in-depth analysis for the selected entity.
The Scorecard Overview report includes the new single Overall Score, a proprietary composite measure that easily organizes entities by overall performance. This overall performance measure is calculated by rolling up scores for the HQRP Admission measures, the HQRP Visit measures, and the CAHPS Hospice domain scores. We complement the new Overall Score on the Scorecard Overview report with such metrics as Caseload, HIS Admit Measures rollup, HIS Visit Measures rollup, CAHPS Hospice rollup, PEPPER metrics, Potentially Avoidable Events rollup, Symptom Control metrics, Average LOS (Days), Average Billable Visits, and Timely Completion of HISa assessments.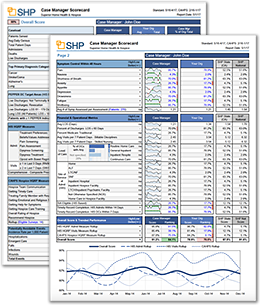 From the Overview report, customers can easily drill down into the Scorecard detail report to obtain breakouts for each of the measure categories found on the Scorecard Overview report. The Scorecard detail report provides additional demographic measures such as Top Primary Diagnosis Categories, Level of Care, and Site of Service at Admission. Hospices can use the new Scorecard suite to quickly assess and compare provider or staff performance and easily identify high and/or low performers. As is the case with nearly all SHP reports, all metrics can be further researched through drilldown links to patient detail reports. Trended sparklines (a small graph designed to give a quick representation of historical trends) provide context in trending, high and low values, and distribution of data volume over the 12 month period.
The new Scorecard Report Suite is currently in development and we plan to launch it in June or July of 2017. We will provide more detail on new features, data types and parameters as we get closer to the release date.
We look forward to introducing this powerful new tool to you soon.
Tags