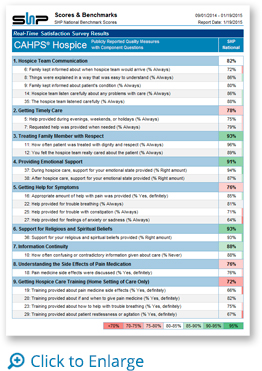 After clearing with CMS, SHP boldly decided to offer interested clients and others the opportunity to transition from FEHC to the finalized CAHPS Hospice survey - four months ahead of the dry run period. It gave hospices a valuable opportunity to get a leg up in preparing for the new survey and improving their performance even before the mandatory dry run period.
We're very pleased to be able to share the benchmarks from the first four months of CAHPS Hospice data. The survey was administered using the same sampling method used for FEHC. Because actual dry run surveys for the January sample month cannot be mailed until April (per CMS methodology), dry run results will not be available until May 2015 at the earliest, so this is truly a unique opportunity to see some actual data.
Hospices can see right away which quality measures are getting positive results and where there is some real opportunity for improvement. Most notably, quality measures #8 and #9 highlight the challenges with education of pain medication side effects. This is consistent with what we saw in FEHC and is something that hospices should be looking at in staff education.

SHP has a special fondness for hospice, as I was once a hospice administrator and delivered direct patient care, as well. We're honored to work with this sector of home care. We welcome your comments and invite you to join in the conversation about how hospices can get scores as high as possible. The industry has some bad press to overcome, and CAHPS Hospice provides a great tool to help us on that journey.
Tags