Real-time hospice quality reports
Upload your data automatically. Easily manage multiple reporting requirements. Easy-to-use dashboard combines Hospice Item Set (HIS), Quality Assessment Performance Improvement (QAPI), and CAHPS® Hospice.
 SHP interfaces with your EHR software to extract a complete set of hospice benchmarking data, including all Hospice Item Set (HIS) fields. This data feeds a comprehensive suite of real-time Hospice Quality Reporting Program (HQRP) and demographic benchmarking reports. Tasks that many hospices complete manually are automated by the SHP for Hospice program.
How SHP's real-time quality reports benefit your organization:
Automates what can take countless hours
Prepares you for upcoming public reporting of scores
Brings together multiple reporting requirements in one comprehensive approach
Helps you proactively monitor and benchmark your quality measures
HQRP Reporting from Your Hospice Item Set
SHP's real-time HQRP reporting suite includes:
Real-Time HQRP Analysis – a comprehensive rollup report detailing how your organization is performing on the 7 publicly reported HQRP measures calculated from Hospice Item Set data.
Real-Time HQRP Executive Advantage – compare hospice locations within your organization to identify strengths and weaknesses in the 7 HQRP measures, identifying specific performance improvement opportunities by location.
Real-Time HQRP Patient Detail – a key real-time drilldown component of the HQRP Analysis and Executive Advantage reports, this report is built to review individual patients who have met or missed HQRP measure benchmarks.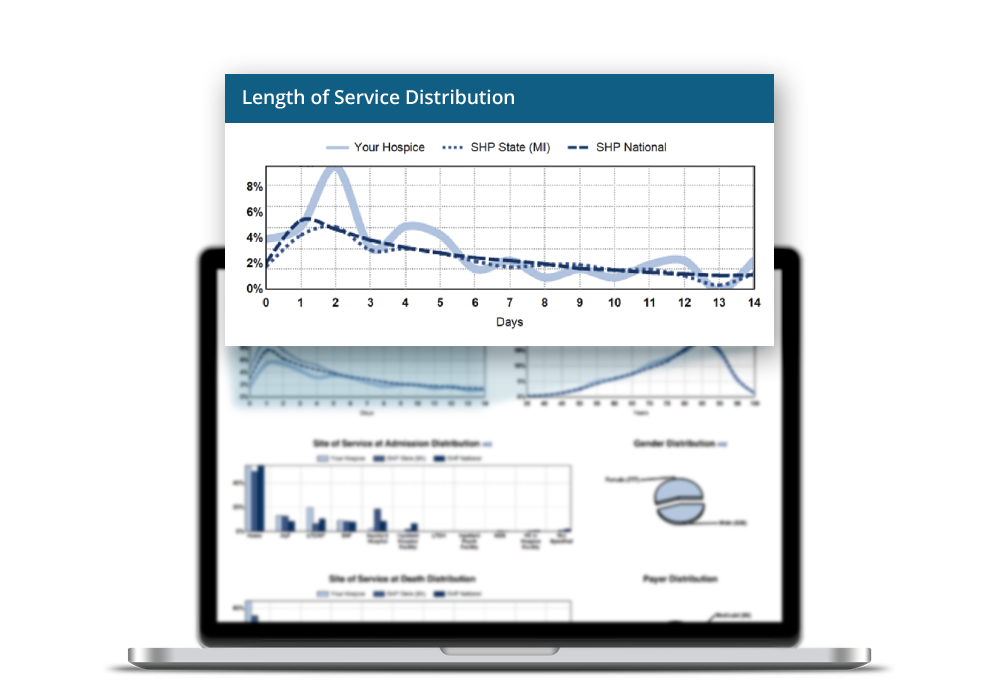 SHP tracks key fields for your QAPI program
A few examples of key features:
Key Performance Indicators (KPI) – data from your Edmonton Symptom Assessments System (ESAS), HIS forms, and Hospice Admissions records provide insight on your hospice patient population. The SHP KPI report provides a thorough analysis of patient demographics, primary diagnosis categories, discharge reasons, length of stay, and more.
Hospice Executive Advantage – a high-level comparison within your enterprise tracks performance related to QAPI measures and patient census for all locations. In addition to state and national benchmarks, it identifies for your organization the unique nature of the patients served by each hospice location.
Potentially Avoidable Events Report – track potentially avoidable events from the organizational level all the way to the patient level, and take a closer look at reasons why a patient may have ended up in the hospital, had a fall, developed a wound, and more.