Hospice data analytics & benchmarking
Compare your operational metrics and quality measures to SHP's largest national benchmark database. Identify areas for improvement.
Utilize real-time quality and performance data in your daily decisions.
With SHP's real-time data, actionable reports and large benchmark database, you can bring operational transparency to your organization to drive accountability across the entire organization. There is no waiting for reports published quarterly. You can monitor trends and track performance for any date range, anytime.
We compare your performance metrics to our largest-in-the-industry database of national and state benchmarks. This allows us to quickly reveal trouble spots and help you improve key quality measures, case manager performance, and caregiver satisfaction.
With the SHP for Hospice solution, you can review your performance against benchmarks across several categories.
Our full suite of benchmarking reports includes:
Patient demographic and quality
Symptom control
Potentially avoidable event (PAE) reporting
Real-time Hospice Compare with national and state benchmarks
Key performance indicators
HQRP Suite
Hospice Scorecard Suite
Our SHP reports are interactive; you can drill down to deeper levels for more actionable insights. For example, you can click on the link by each measure to see for which patients the measure was not met or which caregivers didn't give you strong scores on the survey. You can also get details for each metric at the provider level to review which case managers are performing well and who may need help.
How SHP's real-time quality reports benefit your organization:
Automates what can take countless hours
Prepares you for upcoming public reporting of scores
Brings together multiple reporting requirements in one comprehensive approach
Helps you proactively monitor and benchmark your quality measures
We make it easy for you.
Our intuitive color-coded format shows you where to focus your improvement efforts – the brighter the red, the more attention you need to pay to the measure, and green indicates your strong performance against SHP's national or state benchmark.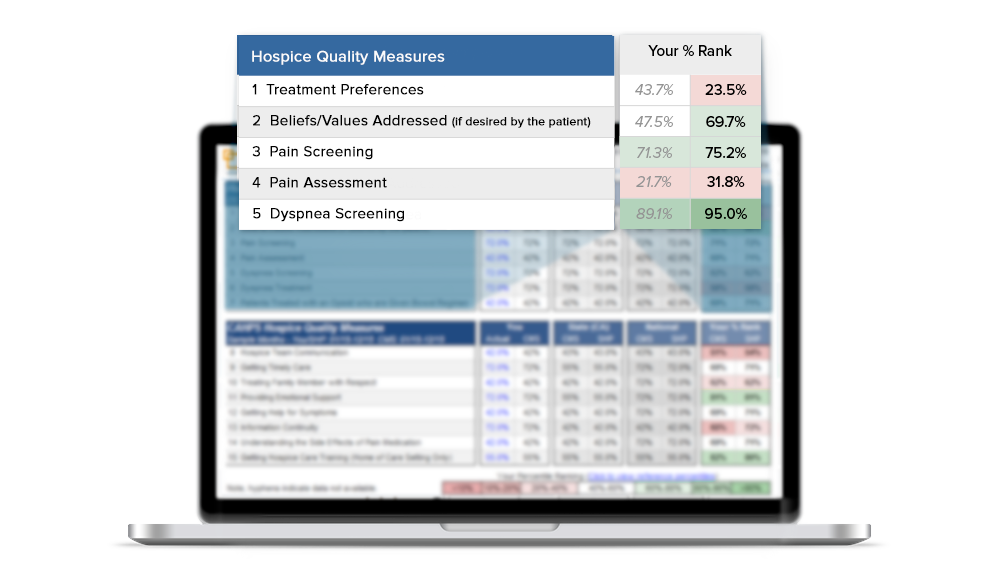 At the organizational level, SHP gives you an opportunity to review the performance of your individual locations or a combination of all locations. You can view all your locations side-by-side to compare them to each other and identify which one(s) may need more attention.