This was the first change to the QoPC Star ratings since its inception in April 2015.  Overall, the rating impact to home health agencies (HHAs) would be minimal, according to CMS.  The average star rating would go up slightly from 3.25 to 3.27 based on a simulation using data from the July 2017 HHC report.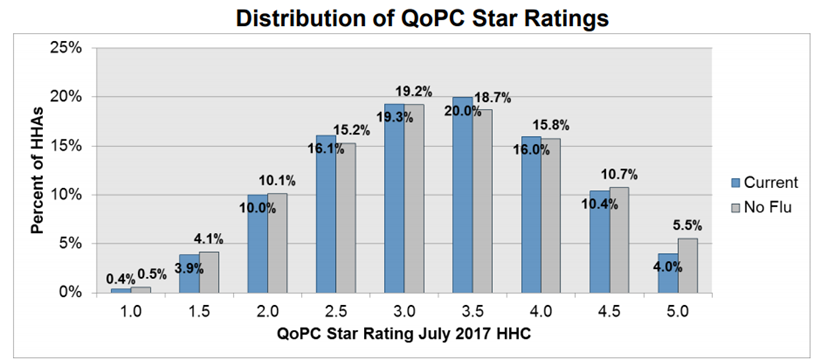 Originally in January 2017, CMS had proposed to replace the Flu measure with the claims-based measure Emergency Department Use with Hospitalizations to the calculation.  Based on stakeholder feedback and over 30 comments, CMS revised the proposal 9 months later to simply delete the Flu measure. 
One concern raised by CMS in deleting this measure was whether it would disincentivize HHAs from encouraging flu vaccination among patients.  CMS intends to continue to publicly report the Flu measure on Home Health Compare and keep track of any decline in the outcomes.
Agencies will be able to preview the new calculation no later than mid-January 2018 for the April 2018 refresh.  The likelihood of an individual agency star rating change will depend on how they had previously scored on the Flu vaccination measure.  The new star rating will now be based on 8 measures and not 9.  If you previously scored high on the Flu measure, your overall star rating may be decreasing.  It may increase too if your scores had not been as good.
Trending and monitoring your QoPC Star Ratings is an important part of a strong quality program.  Agencies should be prepared to communicate any changes in scores with their stakeholders in advance of the change.
Tags