The Centers for Medicare and Medicaid Services (CMS) recently announced how they would approach their public reporting strategy for the Home Health Quality Reporting Programs (HH QRP). The change was necessary to account for the CMS quality data submissions that were either optional or excepted due to the COVID-19 public health emergency (PHE).
The data for the Home Health Quality of Patient Care measures and Patient Survey Star Ratings, which are reported on the Home Health Compare website, derive from three sources:
Outcome and Assessment Information Set (OASIS)
Consumer Assessment of Healthcare Providers and Systems (CAHPS®) Home Health Survey
Medicare claims data
Home health agencies and hospices need access to real-time scores to guide and enhance their quality improvement program
Early this spring CMS outlined temporary changes to assist Home Health Agencies (HHAs) while they directed resources toward caring for patients and ensuring the health and safety of patients and staff. CMS offered optional and temporary exceptions for providers in the submission of OASIS and HH CAHPS survey data. Quarter 4 of CY 2019 was Optional and Quarters 1 and 2 of CY 2020 were Excepted.
The data CMS received for Q4 2019 was considered strong and will be used to display scores on the Home Health Compare (HHC) website. The next HHC update in October 2020 will include the 12 months ending December 31, 2019.
With the exceptions for the first two quarters of 2020, CMS have no choice but to freeze the data (hold constant) the scores following the October 2020 refresh until the "COVID" quarters (Q1 2020 and Q2 2020) impacting the 12 month reporting have passed. The affected Compare site refreshes that were scheduled to contain Q1 2020 and Q2 2020 data include January 2021, April 2021, July 2021 and October 2021. There will be no updates during these quarters. Public Reporting would be resumed as of January 2022.
In order to manage quality scores, home health agencies and hospices need access to real-time scores to guide and enhance their quality improvement programs. Identifying the root-cause to poorer performances will be critical for organizations to address. This will be especially important during these "frozen" periods.
One can't wait in the dark and hope that quality performance is improving, especially considering the competition. SHP reporting provides real-time scores and percentile rankings among peers to help guide agencies quality initiatives. The SHP Clinical Scorecard includes the HHC measures and a lot more. Agencies can use these reports to share with their referring hospitals and partners to showcase how well they are performing during a time hospitals will be blind to updated HHC quality scores.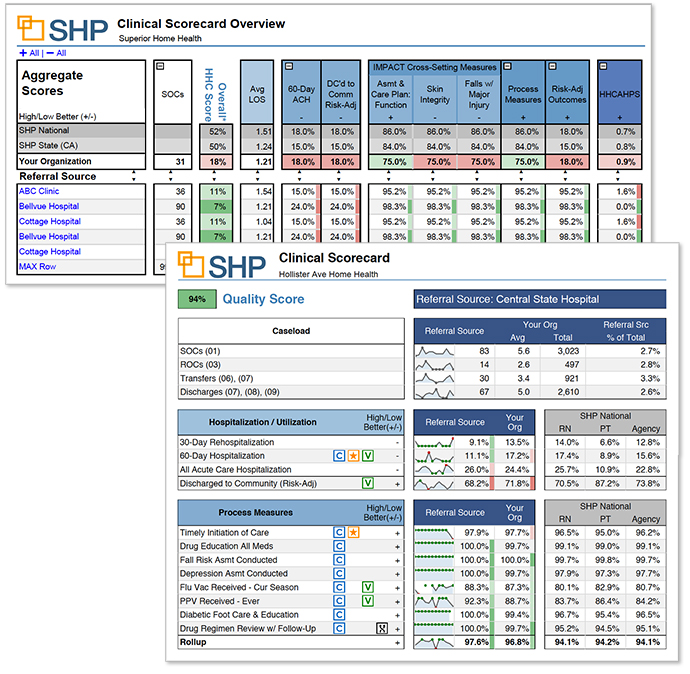 **Reports have been trimmed for display purposes