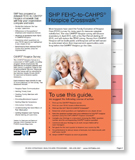 Most hospices have used the Family Evaluation of Hospice Care (FEHC) survey for many years to measure caregiver satisfaction. The new CAHPS® Hospice survey will become mandatory in April 2015, with a Dry Run Period starting Q1 2015, and will replace the FEHC survey. Scores from CAHPS® Hospice will be made public and hospices will be well-served to understand where their improvement opportunities exist long before the CAHPS® Hospice go-live date.
SHP's detailed FEHC-to-CAHPS® Hospice Crosswalk™ will help your organization compare and learn:
Similarities between the two surveys questions
Differences in the questions' emphasis and response choices
Absence of questions from FEHC in CAHPS® Hospice
Introduction of new questions in CAHPS® Hospice, not in FEHC
Benchmarks from national FEHC scores that identify areas for improvement
More on the CAHPS® Hospice Survey:
The CAHPS® Hospice Survey is a component of CMS' quality reporting program which emphasizes the experiences of hospice patients and their primary caregivers listed in the hospice patients' records. Measures from the survey will be submitted to the National Quality Forum (NQF) for approval as hospice quality measures.
Each measure maps directly to one or more questions on the survey. The measures include:
Hospice Team Communication
Getting Timely Care
Treating Family Member with Respect
Providing Emotional Support
Getting Help for Symptoms
Information Continuity
Understanding the Side Effects of Pain Medication
Getting Hospice Care Training (Home Setting of Care Only)
CMS Releases Proposed Rule on FY2015 Hospice Wage Index -May 6, 2014
Tags