On April 25th, the Centers for Medicare & Medicaid Services (CMS) posted their proposed FY 2020 payment rule for hospice on the Federal Register. It was interesting to see how CMS has continued to push their agenda for providing greater transparency. Throughout the rule, CMS noted ways they would "open up the curtain" to the public and providers alike.
As this is their annual payment rule, CMS's proposal included an overall rate increase of 2.7% (inflation of 3.2% less a productivity adjustment of .5%). This increase however, comes with a sizable rebasing of the non-Routine Home Care (RHC) level of care rates. CMS has noted in the past that the General Inpatient (GIP), Inpatient Respite Care (IRC) and Continuous Home Care (CHC) rates were well below the costs of care. CMS proposes to increase those rates by 31.2%, 160.0% and 36.6% respectively!
To account for the increases, the RHC per diem rate will be decreased by 2.71% to keep overall hospice payments budget neutral. There potentially goes your increase. Depending on how much GIP, IRC and CHC your hospice provides, along with the proposal to end the one-year lag in setting the Area Wage Index (AWI), your overall rates could go up or down.
The rate impact between FY 2019 and FY 2020 ranges from a negative 8.3% to a positive 32.2% if the proposed rule is finalized.
As a feature of their new transparency, CMS is providing the list of every hospice by Medicare number on the potential impact of their proposals (you can download the FY 2020 Hospice Provider-Level Impacts list here). A simple calculation on this dataset suggests the rate impact between FY 2019 and FY 2020 ranges from a negative 8.3% to a positive 32.2% if the proposed rule is finalized.
Hospice regulations state that all services related to the terminal illness would be covered under the hospice per diem rates. CMS noted in the rule many examples of patients and other non-hospice providers and suppliers that may not always know or agree on which services are related or not. If unrelated, the patient may be liable for any co-pays and in some cases, the full cost of these "unrelated" services.
To provide more transparency about coverage, the proposed rule expands the Notice of Election (NOE) requirements with new coverage data elements along with a new NOE addendum when requested. This would provide a list and rationale for the conditions, items, services, and drugs that the hospice has determined as unrelated to the terminal illness and related conditions. CMS suggests this will allow patients/caregivers as well vendors more clarity on who will be responsible to pay for the services.
Hospice Compare is the most visible way CMS publicly provides quality data on hospices using Hospice Item Set (HIS) measures as well as CAHPS Hospice. CMS noted they will add one of the paired "Hospice Visits when Death is imminent" measures, Visits by RN/MD/NP/PA within the last 3 days of life, this year but not the other. CMS noted that the second paired measure, Visits by SW/LPN/HHA/Chaplains in the last 7 days of life, is not ready to be displayed since it does not meet the readiness testing around reliability and validity.
At SHP, we have been tracking both measures since data collection began on April 1, 2017 for our customers. In reviewing the measure outcomes, the overall quarterly trend line reflects slight increases over the last two years (see graph).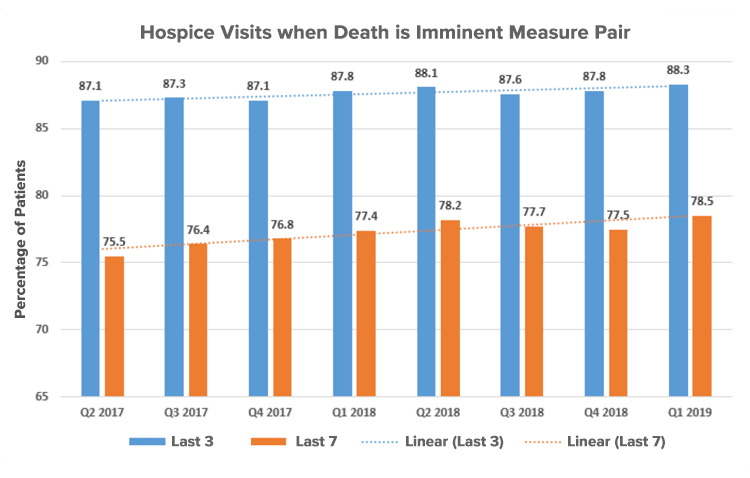 In addition, CMS is proposing to add new hospice insights on Hospice Compare. They plan to add a new "General Information" section starting this summer. The new data will include a check box for comparing hospices that only provide the RHC level of care or RHC with at least one other level of care. Furthermore, they plan to show the hospice's percent of patients served by primary diagnosis as well as a check box for the hospice patients' location of care.
It is interesting to see that CMS has also identified two "high priority" areas to consider adding to their Hospice Quality Reporting transparency. Both are claims-based measures and are under development: potentially avoidable hospice care transitions and access to levels of hospice care. Regarding the latter, CMS has long noted their desire for patients to receive all levels of care, as appropriate. I am sure increasing the non-RHC per diem rates will go a long way to providing hospices an added incentive to offer more of these services.