The CY 2019 Home Health Payment System Rate final rule was published last week and, as expected, the Patient-Driven Groupings Model (PDGM) will be implemented for 30-day periods of care starting on or after January 1, 2020.
In fact, CMS did not have any choice. With the Bipartisan Budget Act of 2018 (BiBA), Congress laid out the Medicare payment update for home health services that needed to implemented as of CY 2020. CMS had to include: 1) a 30 day payment unit; 2) a case-mix methodology that excludes therapy visits as a factor; 3) budget neutrality; and 4) behavioral adjustments to be made on a prospective basis. All four were included and unchanged from the proposed to the final rule.
CMS does have some flexibility in other design details of the model and they did make a handful of changes. The most significant one was to expand the number of clinical groups from six to twelve. These additions will add greater specificity to the Medication Management, Teaching and Assessment (MMTA) clinical group that represented approximately 55% of all projected 30-day periods. This change also doubled the number of possible PDGM groups from 216 to 432. Using data from the proposed rule, the percentage of 30-day periods by clinical group are reflected in the chart below.
| Clinical Groups | Percent of 30-Day Periods |
| --- | --- |
| Behavioral Health | 3.4% |
| Complex Nursing Interventions | 3.6% |
| Musculoskeletal Rehabilitation | 18.4% |
| Neuro Rehabilitation | 10.4% |
| Wound | 9.0% |
| MMTA - Surgical Aftercare | 3.3% |
| MMTA - Cardiac and Circulatory | 17.5% |
| MMTA - Endocrine | 4.7% |
| MMTA - Gastrointestinal tract and Genitourinary system | 4.4% |
| MMTA - Infectious Disease, Neoplasms, and Blood-Forming Diseases | 3.8% |
| MMTA - Respiratory | 8.0% |
| MMTA - Other | 13.5% |
CMS also updated the list of "acceptable" ICD-10 codes based on comments made to the proposed rule. In comparison to the proposed rule, there were 4,878 ICD-10 codes added in the revised Grouping Tool, including new ICD-10 codes that were approved to begin October 1, 2018. Please note that CMS has updated the agency-level PDGM impact reports to reflect the changes that were made in the final rule. Be sure to download these updated impact reports to see the potential impact of PDGM on your organization. Interestingly, of the top 10 largest agencies listed on the impact reports, the revenue change from HH PPS to PDGM decreased for each agency, with the average slightly under one percentage point.
HH PPS Case-mix
As part of the regular process to match case weight with the latest available claims data, CMS recalibrated the HHRG case-mix weights from what was posted in the proposed rule. As we commented this past summer, there were not many changes to the grouper variables used, and no changes to the scoring methodology for calculating the Clinical and Functional Domains.
To help agencies see where the finalized changes were made, SHP has prepared a PPS Case-Mix Scoring and Thresholds Comparison Guide on how the HHRG scoring is affected. Note this will be last time case-mix weights will change under HH PPS with PDGM starting next year.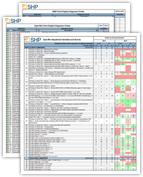 HHVBP
I was a little surprised that the proposed HHVBP changes would be implemented without additional guidance in the final rule. No changes or additional updates were provided in the final rule for the fourth performance year that begins in CY 2019. As I noted in our September HHVBP blog, the HHVBP changes are very significant. Not only is 7% of Medicare revenue at risk, but the new model will also re-weight the 13 OASIS/HHCAHPS/Claims measure scores, with 60-day hospitalizations being weighted at approximately 25% of the total performance score (TPS).
Regarding the two new HHVBP measures, Total Normalized Composite Change in Self-Care and Total Normalized Composite Change in Mobility, there was no new information shared to help agencies calculate the measures; there were also no examples or distributions for the state benchmarks. Without these details, agencies in the nine demonstration states are left somewhat in the dark for where to target their performance improvements.
We will plan a webinar in the near future to review all of the finalized HHVBP changes. Hopefully, CMS will provide more details to these new measures before then, so we can provide additional insights.
Did you miss our recent webinar on PDGM?
You can watch it on-demand at your convenience here:
Tags