Republished with permission from Decision Health. Article originally published on Home Health Line January 11, 2016.

Make best practices short list, consistently implement it to see gains in value-based world
The list of quality measures for home health CMS may ultimately use to help determine payments to agencies just grew six measures longer.
The National Quality Forum's Measures Applications Partnership (MAP) on Dec. 1 released its measures under consideration list (MUC) list, which may be selected by CMS for national pay-for-performance and public reporting programs in the future. (See related box for a list of the new measures.)
Some of the new measures — such as improvement in dyspnea in patients with a primary diagnosis of CHF, COPD and/or asthma — seem like a good idea for the industry, says Ann Rambusch, owner of Rambusch3 Consulting, Georgetown, Texas.
Figuring out where agencies have the best opportunity to improve outcomes related to a particular measure in the most cost-effective way will be important to showing gains in CMS programs like value-based purchasing and star ratings"
Focusing on these specific diagnoses, which typically lead to symptoms of dyspnea, may be a helpful way to show more precisely how and whether patients' shortness of breath improves over a home health episode, Rambusch says.
Regardless, it's likely the proposed measures will just add to agencies' anxiety over several new CMS quality initiatives like star ratings and value-based purchasing that place an emphasis on outcomes improvement, she says.
It's therefore advisable that clinical managers keep it simple when approaching outcomes improvement and teach clinicians to consistently adhere to one or two evidenced-based best practices, such as checking for weight gain and dyspnea in patients with CHF, Rambusch says.
If not, they soon could become overwhelmed and wind up not realizing any outcomes improvement, she says.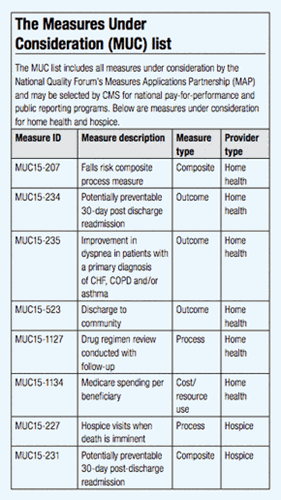 Click to Enlarge
The MUC list contains measures submitted to CMS by the public and those measures CMS actually will adopt to comply with mandatory reporting programs, such as the IMPACT Act.
The IMPACT Act requires home health agencies, long-term care hospitals, inpatient rehabilitation facilities and skilled nursing facilities to report standardized patient assessment data using the assessment instruments, like the OASIS for home health, already in use to submit data to CMS.
Measures under consideration are on a fast track to meet statutorily required 2017 timelines, CMS says. Agencies will have to submit new, standardized quality data under the IMPACT Act by no later than Jan. 1, 2019.
Figuring out where agencies have the best opportunity to improve outcomes related to a particular measure in the most cost-effective way will be important to showing gains in CMS programs like value-based purchasing and star ratings, says Chris Attaya, vice president of business intelligence at Santa Barbara, Calif.-based Strategic Healthcare Programs.
Evaluate dyspnea at each visit
When answering M1400 (Short of breath?) for patients with CHF, clinicians want to make sure they're evaluating patients at every visit, and not just at the start of care (SOC)/resumption of care (ROC), Rambusch advises. That has to be done to accurately gauge whether these patients' dyspnea is improving over the course of the episode.
And remember, M1400 is a case-mix item and is used to calculate an agency's 5-star rating. It also will be a measure used in value-based purchasing to determine agencies' payment adjustments.
Clinicians also have to assess patients in a systematic way to properly gauge dyspnea, she says. For example, are clinicians assessing patients by just looking at them and deciding, or are they, as should be done, asking them about their dyspnea over the preceding 24 hours as well and having them demonstrate activities, like walking, which cause the dyspnea, Rambusch asks.
Note, for example, that just because Response 2 — "With moderate exertion (for example, while dressing, using commode or bedpan, walking distances less than 20 feet)" contains an example of dressing as a cause for dyspnea doesn't mean clinicians are limited to this response when answering M1400, she says.
A patient who becomes short of breath when putting her arm through a jacket sleeve and requires frequent rest periods when doing so should be marked with Response 3 — "With minimal exertion (for example, while eating, talking, or performing other ADLs) or with agitation," Rambusch says.
This patient also would more than likely become short of breath while eating or performing other activities that require minimum exertion. Also, the clinician would more accurately reflect dyspnea improvement by discharge by initially marking Response 3 in this case.
More tips to track outcomes
Track individual clinician performance. For instance, your agency may have an overall average of 60% improvement on a given measure, but different clinicians may have averages of 70%, 80% and 40%, Attaya says. In this hypothetical, agencies likely would want to target education to improve scores for the clinician scoring 40%, instead of educating all the clinicians, thus reducing the overall time spent educating staff.
Don't just consider your agency's improvement goal when setting future outcomes targets. Also factor in the expected improvement in the measure nation- and/or state-wide, Attaya says.
For example, national ambulation improvement scores have shown gains for the past four years — to 63% in 2014 from 56% in 2011. Therefore, quality and clinical managers also need to consider potential improvements from national and state competitors on this measure as they set future outcomes targets in order to rise above the competition in star ratings and value-based purchasing, he says.
Manage your CHF patients with phone calls. Have an aide or office clerk call these patients between nursing visits to see if the patients weighed themselves and are taking the proper medications, Rambusch says. If there is a sudden weight gain, for example, have the aide notify the nurse for follow-up with the patient, either with another phone call or visit.
—Nicholas Stern (nstern@decisionhealth.com)
Related link: View current and previous MUC lists and measures at http://go.cms.gov/1QCu0P3.
Tags