The Episode Einstein report is our most heavily utilized SHP report with nearly 3 million report runs per year. With PDGM looming, we knew that this report would need significant revisions in order to support the new payment model, so we took the opportunity to speak with numerous SHP power-users regarding new features could be added to benefit their daily workflow.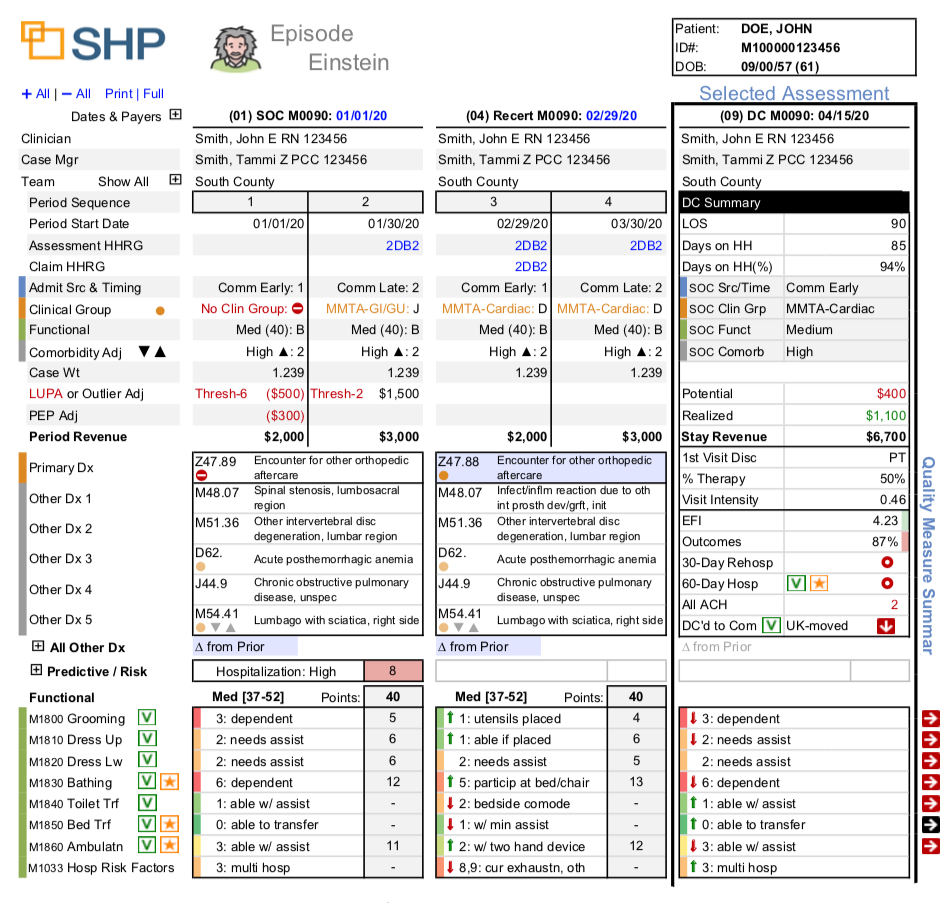 Click to Enlarge
Since then, SHP has been hard at work implementing the wealth of wonderful suggestions we received, and the result is a greatly enhanced new version of the Episode Einstein that was released in December of 2019.
The Episode Einstein report was designed to give an overview and side-by-side comparison of multiple assessments in a home health patient's stay. The report allows you to review changes that occurred from Start of Care (SOC) to Discharge (DC), and all assessments in-between.
Some of the many benefits of the Episode Einstein report:
Drastically reduces time involved in OASIS review and improves accuracy.
Marries clinical and financial elements of the patient stay in an easy-to-read format, making it a prized tool for use in Case Conferences.
Alerts you immediately to changes in case mix, potential outcome declines, or revenue opportunities, and provides a summary of all unresolved SHP alerts for the assessment.
Allows for ongoing monitoring of patient progress and improvement opportunities.
Several new additions to the Episode Einstein report:
New PDGM components are integrated throughout, with consistent color-coding.
Presents revenue details for each available Period in the HH Stay.
Shows the SHP proprietary Risk of Hospitalization level for a patient at SOC and ROC.
Details the Patient Predicted improvement rate for each of the HHC outcomes at SOC and ROC. This allows clinicians to preview the likely impact of risk adjustment on a specific episode for each outcome.
Reports on important visit utilization metrics such as Visit Intensity and % Therapy, populated by the final claim for each period.
Includes our new Efficiency in Functional Improvement (EFI) metric which calculates the efficiency at which functional outcomes improve.
We are confident that you will find this new and improved report to be an invaluable part of your workflow as you continue to learn and thrive under the new Patient-Driven Grouping Model!