SHP is pleased to announce the release of new functionality to the Clinical Executive Advantage Report available to our Home Health clients. This report presents scores in a simple table format for quick review and side-by-side site and benchmark comparison across even the largest home health enterprises. As one of our most popular reports, the Clinical Executive Advantage serves as a starting point for high level data analysis across a wide spectrum of clinically oriented home health quality metrics.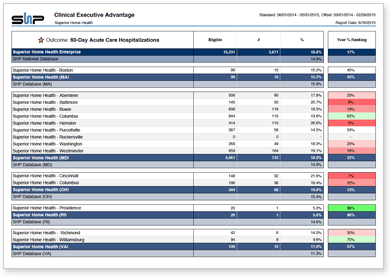 Click to Enlarge
The new features in this report include:
1.

The addition of two new quality measures:

60-Day Acute Care Hospitalization – This measure is reported by CMS on Home Health Compare and is being used in the Star Rating calculation; report includes both actual and percentile ranked scores
30-Day Rehospitalization – Report includes both actual and percentile ranked scores

2.

The addition of Telehealth support – Report can be filtered to include telehealth patients only, non-telehealth patients only, or to include all patients for easy performance comparison; this adds to our extensive suite of reports that support this functionality

3.

The addition of Star Rating measure indicators – Added to highlight all measures that contribute to the new CMS Quality of Patient Care Star Rating scores
As our industry transitions to ICD-10 and beyond, SHP will continue to add enhancements and value to our existing reporting through new features like these. We are also very excited about some powerful new reports scheduled for release later this year that will revolutionize how home health agencies evaluate staff accountability and compare performance across referral sources, primary diagnosis groups and more.
Tags