With the implementation of the Patient-Driven Groupings Model (PDGM), SHP is pleased to announce a new suite of financial reporting to help home health agencies improve efficiency and maximize margin under the PDGM.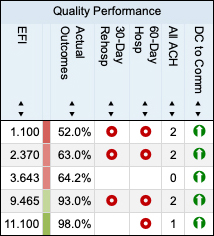 One new and noteworthy metric is our proprietary Efficiency in Functional Improvement (EFI). It shows the efficiency at which functional outcomes improve for each period or stay, which has become even more critical under PDGM.
Among these new reports that were released in December of 2019, are the PDGM Stay Detail and the PDGM Period Detail reports.
These new reports help guide visit utilization management, LUPA tracking, margin analysis, efficiency of functional improvement, and much more.
Patient stay details of PDGM core categories (Admission Source and Timing, Clinical Grouping, Functional Impairment Level, and Comorbidity Adjustment), can be explored alongside relevant clinical, quality, and financial metrics.
Comparisons across HHRGs, Clinicians, Margin, Visits and Quality KPIs facilitate close collaboration between clinical and financial managers.
The ability to review so many key contributors to PDGM performance in one place gives crucial insight into areas which may need to change under the new payment model.
Details of each report are highlighted below.
PDGM Stay Detail Report
Within the PDGM Stay Detail report, find information on the overall home health stay (Episode of Care) for retrospective comparisons against visits, clinical quality, and other PDGM component metrics. Expand any concerning stays to view data for the individual 30-day periods for that stay.
Some example use cases for the PDGM Stay Detail report:
Sort by Margin to identify which factors, such as Visit Intensity, LUPA or Comorbidity adjustments, Clinicians or Teams, are contributing to your high and low margins.
Review Quality Performance Indicator metrics in relation to revenue metrics to review which patients have the right balance of quality and resource usage.
Gain insight into how visit length and frequency correlates to outcomes and hospitalization rates.
Sort by EFI of closed stays to gauge efficiency by staff member or group and determine best practices for high quality and low cost.
Standard PDGM coloring is utilized in all SHP reports that present PDGM metrics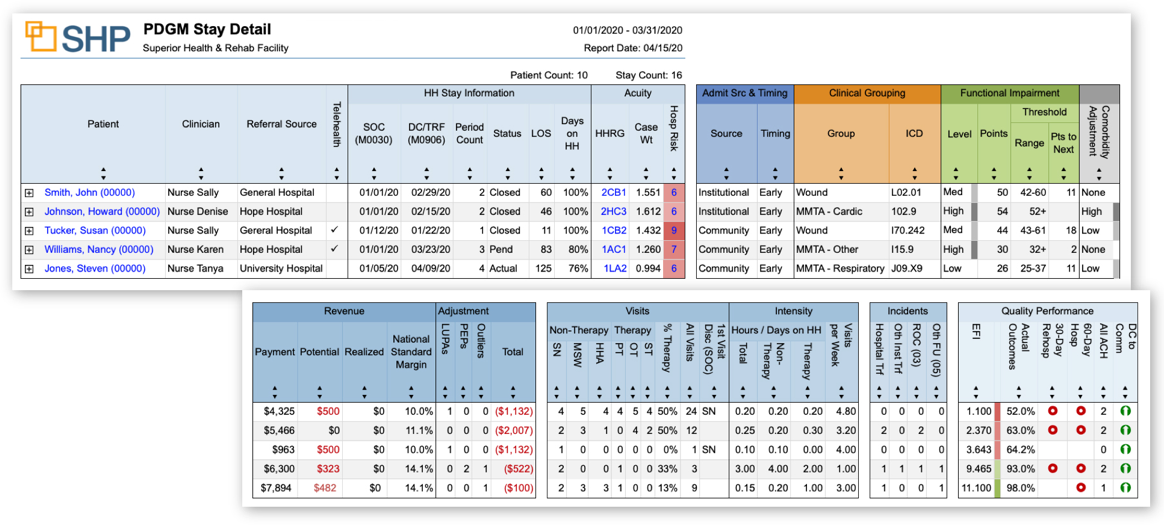 PDGM Period Detail Report
This report has the same benefits as the PDGM Stay Detail report, but data is broken out by each 30-day payment period. This allows for more in-depth analysis of performance by period, and also provides real-time data at the current period level so you can take preventative action.
Some example use cases of the PDGM Period Detail report:
Sort by Team and then Hospitalization Risk to identify patients to review with your teams before they're hospitalized.
Sort by 'Δ From LUPA' to quickly pinpoint potentially-preventable LUPAs and periods with increased risk of RAC audit.
Sort by LUPA adjustment to identify the factors contributing to LUPA rates that are higher than the benchmark.
Review the Length of Period (LOP) column to target patients that are close to their next 30-day period for clinical review.
We are confident that you will find these new reports, along with the other reports in the SHP PDGM suite, to be invaluable as your organization works to adapt to the new PDGM payment model and continue understanding the right formulas to improve efficiency and maximize quality.
Tags