With provider and industry comments now in, the Centers for Medicare and Medicaid Services (CMS) will take the next 60 days to evaluate and make any suggested changes in the Home Health CY 2017 Final Rule. It was interesting to read CMS's proposal on a new Home Health Groupings Model (HHGM) to replace the current reimbursement's reliance on therapy visits. CMS shared their initial research and analysis to potentially revise the HH PPS case-mix methodology. But, they explicitly stated they didn't want our comments, yet. They will let us know once their technical report on HHGM is released.
One area that was hard to comment on was the calculations used in determining the HH PPS case-mix weights. CMS uses a complicated seven step process that begins with analyzing 2015 home health claims data to update the relationship between the grouper variables and agency resource use (cost as it relates to visits). It should be noted that in step five, the raw weights associated with 0 – 5 therapy visits were increased by 3.75% with weights for 14 -15 therapy and 20+ decreasing by 2.5% and 5% respectively. This is how CMS underweights therapy episodes due to the high profitability on these HHRGs. The resulting case mix weights are changing on all 153 HHRGs except one.
Several of the proposed 2017 HHRG point thresholds have changed, although not as much as last year."
In looking at the HHRG case-mix changes, we noted a range from a decrease of -2.09% to an increase of 2.99%. Just over half (53.6%) of the HHRG changes are positive, with an overall average increase of 0.18%.  Interestingly, points are now scored for "Psych 1 and 2" and both "Pulmonary Primary or Other DX" grouper variables. They had been dropped in past years. In addition, several of the proposed 2017 HHRG point thresholds have changed, although not as much as last year.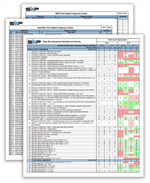 To help agencies see where the proposed changes were made, SHP has prepared a PPS and NRS Point Scoring 2014 - 2017 Comparison Guide on how the HHRG scoring is affected, including the mapping and scoring of the new clinical and functional domains. The service domains are not changing at this point.
To ensure that the HH PPS case-mix weights are implemented in a budget neutral manner, CMS is proposing a budget neutrality factor of 1.0062 to the national base rate. This suggests that CMS is expecting the new case-weight model to reflect a slight decrease in overall case-mix weight by just over a half percent for episodes that end January 1, 2017 and later.
With every change that CMS makes, it is important home health agencies increase their efforts to ensure the OASIS coding processes are continually evaluated for accuracy and efficiency. We will not know the impact of these proposed changes until the final rule is published. We will have to wait and see.
Tags