With little fanfare, CMS has begun the process to remove the measure, Frequency of Pain Interfering with Patients Activities or Movement ("Pain") from the Home Health Quality Reporting Program (HH QRP). We were made aware of CMS's concerns in their 2018 roadmap outlining efforts to address the national opioid crises. In the 2020 Final Rule, CMS noted: "We are removing pain-associated quality measures from our quality programs in an effort to mitigate any potential unintended, over-prescription of opioid medications inadvertently driven by these measures".
What this means for HHAs is that for Home Health Compare (HHC), Star Ratings, CASPER reporting and any QAPI programs that you may have targeted, the Pain measure will no longer be publicly reported. Pain will be removed with the HHC April 2020 release, but for CASPER and the Star Rating Preview Reports, Pain has already been deprecated as of January 2020.
This one change would have impacted your star ratings by a decrease of a half star.
Your Star Rating calculation will now have one less measure, different than the replacement approach (add one – take one away) of last year's Star Rating update. As with that change, the impact to your star rating may depend on your individual scores for the star ratings measure being adjusted. Since CMS will now average the remaining 7 measure scores, you may see your star rating go down if your Pain score was in the one of the top deciles, or you may see your star rating go up if your Pain score was in one of the bottom deciles.
In one example, under the prior calculation with eight measures, if your Pain rating was a 5 and all other measures were 3 stars, your agency would have an average score of 3.25 which would be rounded up to 3.5 stars. With Pain removed, the average would now be 3.0. This one change would have impacted your star ratings by a decrease of a half star. This assumes no changes in the cut points. However, based on the latest Preview Report, the cut points continue to increase.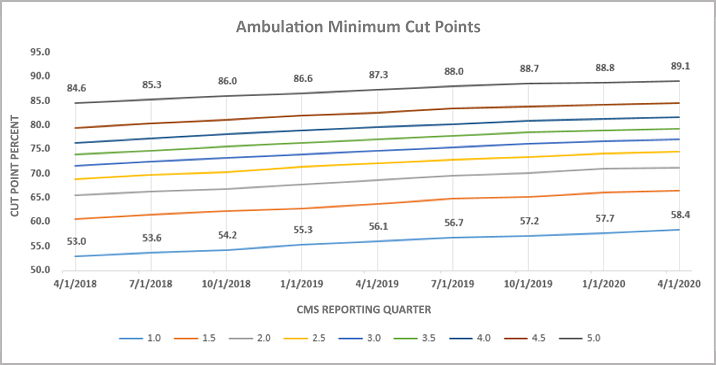 SHP has created a pdf showing all of the Star Rating measure cut points since their inception, download it here to see trends over time: HHC Star Rating Measure Cut Points.
HHAs continue to improve their QRP scores which requires CMS to increase the measure cut points to maintain their decile rating methodology. What is new this year is the blending of the OASIS-D risk model adjustments that are now incorporated for the portion of assessments that started in calendar 2019 (the April 2020 Star Rating Preview Reports reflect OASIS data from July 2018 – June 2019, Claims from January 2018 – December 2018). It is still unclear how that change may be impacting agency star ratings or cut points. We will take a deeper dive into that analysis later.
It will not be until OASIS-E is finalized that CMS will officially delete the Pain OASIS Item M-1242 from all assessments. CMS did remove the requirement of coding Pain on Follow-up assessments as of OASIS-D1, but the measure is still being used this year for Home Health Value-Based Purchasing Program (HHVBP) in the 5th and final year of the CMMI pilot.
It seems odd that the current OASIS item related to managing pain would be removed, while at the same time CMS is proposing to add three new pain-related OASIS items to the January 2021 OASIS-E version:
J0510 – Pain Effect on Sleep
J0520 – Pain Interference with Therapy Activities
J0530 – Pain Interference with Day-to-Day Activities
I guess not all Pain OASIS items are created equal. With all the changes that Star Ratings have gone through since the inception, I would argue keeping track of the changes each year has been painful.