The Centers for Medicare and Medicaid Services (CMS) released the new Hospice Compare website in August. Maybe it was the summer, but there was not that much fanfare in its release. As expected, CMS shared the seven Hospice Item Set (HIS) measures with dates going back almost two years (October 2015 – September 2016). CMS had already announced that CAHPS Hospice scores will not be reported until early CY 2018.
The website was easy to navigate and the comparison for up to three hospice providers was straightforward and similar to the other CMS Compare websites. What surprised me was the measure "Patients who got a timely and thorough pain assessment" national average was fairly low at 77.7%. All the other measures had scores into the mid-to-high 90% range.
In fact, in selecting the first three hospices close to where I work, the pain assessment scores were highly variable at 85.5%, 79.5% and 35.0%. If a patient, family or referrer saw these scores, I am sure they would likely want to choose the hospice with the highest score from this sample.
Looking at the SHP national trends over the last two years by quarter, we can see that hospice agencies have improved steadily in this measure. As the lowest scoring HIS quality measure, many hospices have made the pain assessment measure a focus of their performance improvement programs in order to ensure that patients are assessed in a timely manner when the screening questions indicate that they are in pain.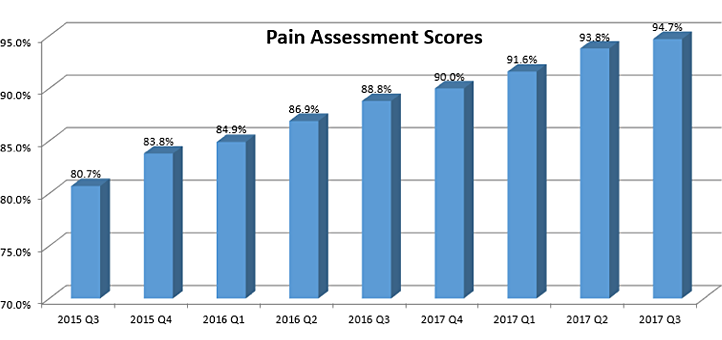 This data shows how important it is to track and manage your performance improvement program with real-time scores. With a 9 month delay expected in Hospice Compare data, your scores today will be part of the CMS benchmark through June 2019. Hospices should evaluate their highest and lowest performers for identifying best practices and remedial training accordingly.
Join Zeb Clayton and I for a FREE webinar sponsored by Devero on October 19th. We'll explore the history of HQRP, share national HIS and CAHPS Hospice score trends over the last couple of years, and how they impact you. We will also provide an early look at the new Hospice Composite measure and the two new Visits when Death is Imminent measures.