CMS recently posted the FY2016 Proposed Rule for Hospice, and given the 2010 ACA requirement for payment reform, this is the first major change to the Medicare reimbursement model being proposed.  Noting the service intensity is higher at the beginning and end of a stay,
With all the scrutiny home care has been under, I guess it is Hospice's time.
CMS is proposing to set higher rates for Routine Home Care (RHC) in the first 60 days and then lower rates on days over 60.  With all the talk about U-shaped and tiered reimbursements models over the last 5 years, I guess the time has come.
For many years Hospice has been under the radar, but not anymore.  Look at some of the changes proposed or implemented in the last 12 months alone:
New Hospice Item Set (HIS) reporting requirements
CAHPS Hospice
New cost reporting requirements by level of care and new cost centers
New claims requirement to report all injectable and non-injectable prescription drugs for the palliation and management of the terminal illness and related condition
Part D Prior Authorizations
This new reimbursement proposal
There is no question that the spending growth of Hospice has had a lot to do with it.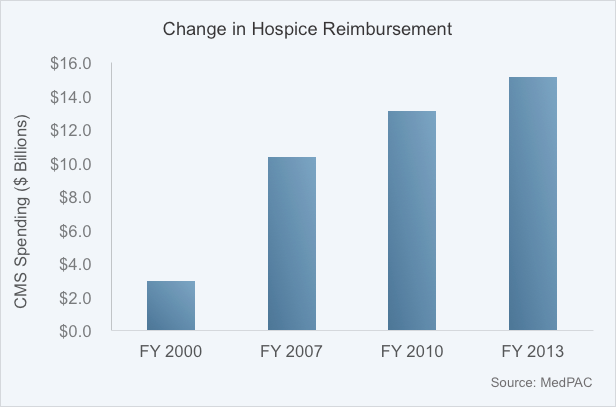 A couple of notable new provisions to the proposed rule:
Alignment of the Cap Year for the Inpatient and Aggregate cap to federal fiscal year starting in 2017
CBSA-OMB delineations that would match the changes made in SNF PPS and Home Health PPS
New Service Intensity Add-on (SIA) for RN & MSW visits in the last 7 days of life
Clarifying that all diagnoses, whether related or unrelated to the terminal prognosis be included on the claim form
Quality reporting timeliness of the Hospice Item Set (HIS) to be ramped up from 70% in 2018 to 90% starting in 2020
The CMS Open Door Forum on May 6th also noted that CMS is looking for new measures to be included on the HIS quality reporting – I think we all saw that coming.
With all the scrutiny home care has been under, I guess it is Hospice's time.  What will be next; let me guess, 5 stars?
Tags