January 1, 2016 marks the start of the new Centers for Medicare and Medicaid Services (CMS) regulation on how hospices are reimbursed. CMS and MedPAC have long touted that the routine home care (RHC) daily rate did not adequately reflect the resources required at the beginning and end of a patient's length of stay (LOS). CMS has devised a new reimbursement method to help match payments to the services rendered. See this U-shaped graphic posted in the FY 2016 Hospice Final Rule issued on August 6, 2015.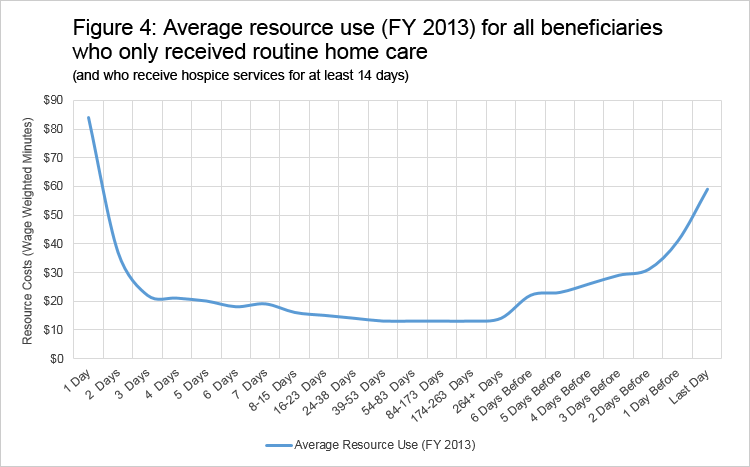 The new payment rule first creates two different RHC payment rates based on the timing within the episode of care in which the beneficiary receives hospice services. These two payment rates replace the current single RHC per diem rate. The new base payment rate is higher in the first 60 days of hospice care and then thereafter the base payment rate is reduced for days 61 and later. The two rates were calculated as proportional to the relative intensity of resource use in the two time periods (days 1-60 and 61+). The new national per diem payment at the RHC level of care is $186.84 for days 1-60 and $146.83 for days 61 and later.
| Level of Care | Dates of Service | National Rate |
| --- | --- | --- |
| Routine Home Care (RHC) | 10/1/15 - 12/31/15 | $161.89 |
| RHC 1 - 60 | Effective 1/1/16 | $186.84 |
| RHC 61+ | Effective 1/1/16 | $146.83 |
| Service Intensity Add-on (SIA) | Effective 1/1/16 | $39.37/hour |
The second part of the rule creates a service intensity add-on (SIA) payment for any direct patient care provided by a registered nurse (RN) or social worker that occurs during the last seven days of a beneficiary's life. The SIA payment is equal to the Continuous Home Care (CHC) hourly payment rate, for up to four hours of patient care, if certain criteria are met. The SIA is paid in addition to the RHC per diem payments during the last seven days of life. To ensure that the nursing service is for RNs only, new HCPCS codes were implemented effective January 1st to separate RNs from Licensed Practical Nurses (LPNs), for billing purposes.
The financial impact on an individual hospice will depend on its distribution of patient LOS' and visit utilization in the last 7 days. Generally, a hospice with a lower average-LOS will see an increase in revenue and those with higher LOS will see a decrease. Hospices should quickly assess the financial effect relating to the new RHC and SIA payments, and be prepared to make adjustments.
This is the first significant change to hospice payments, but is not likely to be the last. CMS has contracted with Abt Associates, Inc. for additional data analysis to better understand how the hospice benefit is used now. I expect some of this analysis will inform CMS on future payment recommendations. Watch for my next blog where I will highlight Abt's "Medicare Hospice Payment Reform: Analysis of How the Medicare Hospice Benefit is Used" study (CMS issued on December 3, 2015) and their findings.
Tags