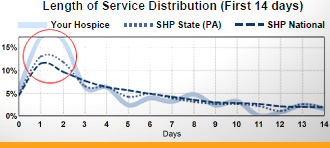 Eliot, one of our customer managers, wrote me a heart-wrenching email the other day about a request he received from one of our hospice clients. The customer called him to ask that we disable the alert that identifies patients as potential candidates for transfer to hospice. We've never had anyone request this of us. Eliot was mystified and was pretty sure I would be, too. Eliot asked the client why they wanted to disable the feature, and these were the reasons given. "If the doctor wanted the patients to be in hospice, that's where he would have referred them." Next was, "Maybe the patient is on antibiotics, and shouldn't be in hospice."
Okay, let me vent. SHP pioneered the "candidate for hospice referral" alert, and we did so for several good reasons. We were painfully aware of how many of these patients slip through the cracks and how easily that happens. We also know that physicians unwittingly neglect admitting patients to hospice as often as they could. It's a lot for busy healthcare providers to keep track of without automation.
Too many patients are admitted in the final 72 hours of life, creating havoc and distress for patients, family members and hospice providers. Beyond the obvious upside of better patient care, agencies that identify and transfer patients from home health to hospice protect their public outcomes scores from an inevitable decline. They're also able to manage their direct and indirect costs better by transferring patients to the setting best equipped to care for the complexities of dying.
Tags