The increased hospital penalties for 30-day readmission rates just went into effect on October 1, 2014, and about three-quarters of all hospitals will be impacted. Home health offers hospitals one of the best strategies to reduce admissions, but are we living up to the challenge? See what the data show.
CMS recently announced that in FY15 (Oct 14 – Sept 15), a record number of hospitals will be penalized – about three-quarters of all hospitals that are subject to the readmission penalties. One reason for the higher fines is likely the addition of the new diagnosis groups, with overall total fines estimated at $428 million this year. At the same time, CMS reports that readmissions are down for all conditions across the board - another demonstration that what gets measured, gets managed. Hospitals are serious about looking for solutions to keep patients at home once they're discharged from the hospital. 
Home health agencies offer hospitals one of the best strategies to reduce their hospital readmissions. A recent article in the Pittsburgh Business Times about UPMC's readmission issues underscores the importance of what happens to patients after they're discharged from the hospital. 
UPMC is a highly recognized organization that operates a dozen hospitals in western Pennsylvania. All but one of their hospital facilities will receive payment penalties for 30-day hospital readmission rates that exceed those allowed by CMS (Medicare). UPMC's Quality Officer, Tammy Minnier, was quoted in the article as saying, "One thing we have learned in our work is that social factors and supportive structures around patients outside the hospital is as important as the care inside the hospital." This is clearly where home health shines as this supportive infrastructure already exists. Hospital-based home health agencies should be a bigger part of the hospital's strategic plan to reduce readmissions, and free-standing agencies can help these same hospitals by offering services to patients that don't meet homebound status, where the hospital becomes the payer. Hospitals are prohibited from referring these patients to their own agencies outside the Medicare benefit due to Stark Law limitations.      
Is home health delivering on its promise to keep those patients with the target diagnoses out of the hospital during the penalty period? SHP compared data in its national database for 2013 and compared it to 2014 YTD for all five of the target diagnoses. Overall, there has been no improvement for AMI and COPD, and only slight improvement for Heart Failure, Pneumonia, and Joint Replacement. However, within this benchmark are many agencies performing extremely well with rates in the single digits. One of the things they're doing to achieve these results is making data analysis an important part of their routine.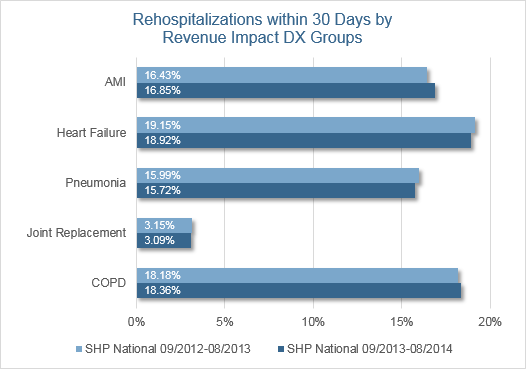 Now that the new penalties have gone into effect, it's time to double down on your efforts to become the default referral source in your community. Here's a reminder of the data and reporting available to you in SHP for internal analysis and external sharing.      
Risk of Hospitalization Alerts – Low, Medium, High
Rehospitalization Report – 16 pages of information
Rehospitalization Patient Detail
Clinician Scorecard with Hospitalization Rates
State and National Hospitalization Benchmarks
Tags