The Centers for Medicare and Medicaid Services (CMS) have recently announced some changes that will be implemented in the Hospice Quality Reporting Program (HQRP) over the next couple of years. CMS is proposing to replace the Hospice Visits when Death is Imminent Measure Pair (HVWDII) with one new claims-based measure, Hospice Visits in the Last Days of Life (HDVDL).
CMS requested feedback on these changes with comments due by October 13, but this should be a no-brainer. Whereas today, hospices must complete Section O: Service Utilization of the Hospice Item Set (HIS), the new measure would be calculated using Medicare Hospice claims, saving hospices time and money. CMS notes the industry should save over $6.7M annually in eliminating Section O. It may just be the EMR vendor that may push back, since this will require that the new HIS V3.0 replace HIS V2.0 under a tight timeframe (Starts Jan 2021, with OMB approval not until Nov or Dec).
Interestingly, one of the HVWDII measures (Measure 2), Visits in the last 7 days, was never reported on the CMS Hospice Compare website. CMS noted that the measure "did not meet the readiness standards for public reporting." This is contrary to what I expected, since one would expect more visits would lead to a better experience.
To test this, we compared the SHP CAHPS Hospice scores for Willingness to Recommend (Q40) for patients admitted from Jan 2019 to June 2020 and found that the scores for the two HVWDII measures were dramatically different.
Q40 Response
3 Day Measure
7 Day Measure
Not Met
Met 
Patients
Not Met
Met 
Patients
Def Yes #
10,110
86,608
96,718
21,334
74,308
95,642
Def Yes %
10.5%
89.5%
100.0%
22.3%
77.7%
100.0%
When the 7 Day measure was met, the average Recommend score "Definitely Yes" was 11.8 percentage points lower than when the 3 Day Measure was met. This suggests a negative relationship to the CAHPS Hospice survey for "would recommend".  HVWDII Measure 2 is met when at least two visits from medical social workers, chaplains or spiritual counselors, licensed practical nurses or hospice aides occurred in the last seven days of life.
Keep in the mind the new 3 day claims-based measure will be calculated differently. Instead of looking at the percentage of patients receiving at least one visit in the last three days of life by a MD, NP, RN or PA, the new measure will reflect the percent of patients receiving just RN or MSW services in at least 2 of the 3 last days of life (and on Routine Home Care only).  CMS rationalizes that this change also aligns well with the tracking of hospices that would be receiving per-visit payments for patients in the last 3 days of life under the Service Intensity Add-on (SIA).
Another important HQRP change relates to the quarterly exemptions due to COVID-19. Since hospices were exempted from mailing CAHPS Hospice surveys and collecting HIS data during the first two quarters of CY 2020, CMS has chosen to freeze the Hospice Compare data for the reporting periods that would include either of these two quarters. Since Hospice Compare is reported nine months in arrears, the November 2020 refresh will be the last one reported until February 2022. CMS provided this chart on a recent update. View the chart and tip sheet from the CMS website here: Hospice HQRP COVID-19 Public Reporting Tip Sheet.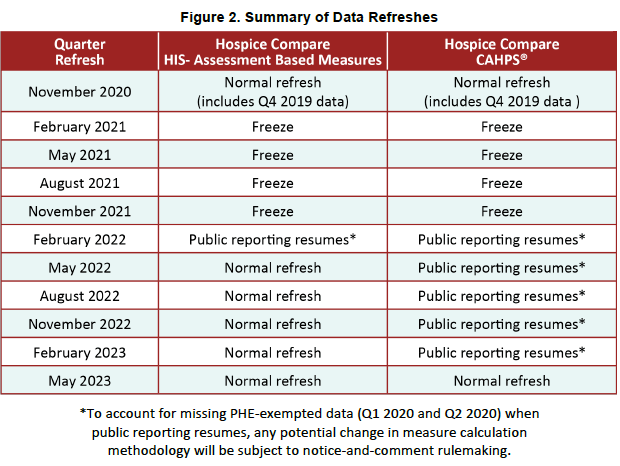 Note that CAHPS Hospice reporting is based on two years of rolling quarterly survey data. This means CMS could freeze CAHPS Hospice scores for an additional year. I suspect CMS may consider changing the reporting time frame to 12 months (similar to the HIS based metrics), but time will tell. CMS acknowledges that any potential change in measure calculations would be subject to notice and comment rulemaking.
Other HQRP changes CMS is investigating were highlighted during a webinar on August 8, 2020. During this presentation, CMS shared other potential claims-based measures they are looking into. They highlighted the concept of a creating a Hospice Care Index, a composite of the some of the ideas listed below:
Skilled Visits - Quantity & Quality
Service Utilization
Access to all Levels of Care
Transitions
Readmission
Additionally, we will be waiting to see how this fall's Alpha testing of the new standardized Hospice Outcomes and Patient Evaluation (HOPE) tool progresses. This new assessment will offer a new standardized dataset for CMS to consider in developing new outcome measures. Although the implementation of the HOPE tool is likely still a couple years away, it will be interesting to keep track of this new HQRP initiative as it moves forward.
In the Proposed and Final Rule for Hospice beginning October 1, 2020, CMS noted that they were not making any changes to the HQRP for FY 2021.  Hmmm...  With that in mind, it was surprising to read the proposal planned for the new HDVDL measure being pushed through this fall. I wonder how many hospices may have missed this change.
It is also a little odd that this change is coming during the "freeze" on Hospice Compare reporting due to COVID-19. It is not clear when Hospices will see their new HDVDL scores for the first time. Hospices who are currently using HVWDII Measure 1 as part of their QAPI programs will need to plan accordingly for the HQRP changes that are coming.
How will your hospice manage its quality improvement program during the freeze?
One can't wait in the dark and hope that your scores will be improving. SHP's real-time reports give hospices all of the HIS and CAHPS Hospice data on Hospice Compare and much more.