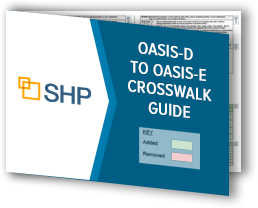 CMS has moved forward with getting final approvals in updating the Home Health OASIS assessment version from 'D1' to 'E' effective next January 1, 2023. CMS is required to get approval from the Office of Management and Budget (OMB) as part of the process. As part of their information packet, CMS provided an OASIS change table, a revised OASIS-E form and an itemized list of each data element, along with their assumptions of estimated costs to implement. The estimate for the time clinicians will need to complete the 143 net changed data elements (see chart) will cost $340.9M annually with another $23.4M in one-time trainings.

The major sections added in OASIS-E will comply with the requirements of the IMPACT Act originally excluded from OASIS-D due to industry burden, these include:
Standardized items to Assess Cognitive Function

A Brief Interview for Mental Status (BIMS) and PHQ-2 to 9

Standardized items to Assess for Special Services, Treatments, and Interventions

Nutritional approaches, high-risk drug classes, cancer treatments and respiratory therapies

Standardized items to Assess Medical Conditions and Co-Morbidities

Pain effect on sleep along with pain interference with therapy activities and day-to-day activities

Standardized items to Assess Impairments

Hearing and Vision (updated)

Standardized items to Assess Social Determinants of Health (SDoH)

Language, Health Literacy, Transportation and Social Isolation, among others

Transfer of Health Information to Providers and Patients
You may recall that CMS originally planned for OASIS-E to be effective January 1, 2021, but then came COVID. The Home Health industry expected they were off the hook for a while when the Interim Final Rule with Comment (IFC) delayed OASIS-E implementation until one full calendar year after the Public Health Emergency (PHE) was over. However, CMS finalized in their CY 2022 annual rulemaking to bypass this and have it take effect sooner (PHE is still in place).
CMS originally released the draft OASIS-E forms in February of 2020. In their most recent OMB filing, there were some subtle changes made in the latest version, one that sheds some light on possible changes to the Patient Driven Groupings Model (PDGM).
CMS wrote: "Changes pending adoption in the CY2023 rule. The addition of items to the Follow-up (FU) time point to support 'CMS' potential updates to the home health PDGM."
CMS included eight Self Care and Mobility "GG" OASIS coded items, such as GG0130E - Shower/bathe self and GG0170G - Car transfer. Up to now, GG coded items implemented with OASIS-D have not been used in any of the HHQRP measures or PDGM reimbursement models. Perhaps this will be the beginning. Interesting…
Other changes  in the 2022 release version included the addition of new response items for "patient declines to respond" for several OASIS Items, some skip pattern logic changes, as well as reordering some OASIS items.
There is a lot for clinicians to learn and to prepare for with these changes. Staff education is critical.
There is a lot for clinicians to learn and to prepare for with these changes. Staff education is critical.  Agencies should be mindful not to train their staff until we get closer to the start of next year. Training too early may result in staff forgetting what they learned. However, it's not too early to start preparing for this education. 
To help our clients with designing their training and education programs, we recently updated our OASIS-D1 to OASIS-E Crosswalk Guide (v1.6) with the CMS latest release of OASIS-E.
Tags