Republished with permission from Decision Health. Article originally published on Home Health Line December 15, 2014.

"Hospices have proven to have a high level of success in six of seven CMS quality measures within the Hospice Item Set (HIS). But hospices continue to struggle with documenting comprehensive pain assessments.
That's according to an analysis of about 800 hospices' HIS data recently released by Strategic Health Programs (SHP) of Santa Barbara, Calif.
Most of the time, problems associated with comprehensive pain assessment documentation have an easy fix, believes Barbara Rosenblum, SHP's founder and CEO. Hospice nurses routinely document several characteristics of pain. But now with HIS, no fewer than five of those characteristics must be documented, Rosenblum says. Any fewer than five results in declining quality measure scores. Nearly 10% of comprehensive pain assessments are not completed, and nearly 10% only contain one to four characteristics instead of the five required, SHP's data show.
Overall, hospices have had greater than 90% success with six of the HIS quality measures, according to data from SHP's national hospice database. Those measures are: Treatment preferences, beliefs/values addressed (if desired by the patient), pain screening, dyspnea screening, dyspnea treatment and patients treated with an opioid who are given a bowel regimen. Scores on those six measures improved when comparing September and July. The improvement seen in scores is a direct reflection of hospices "becoming familiar with the dataset," Rosenblum says. But such was not the case with pain assessment, where scores worsened. Pain assessment scores were markedly lower from July through September than the other six quality measures, SHP data show. The scores were 78.2% in July, dropping to 75.6% in August and 75.4% in September. (See below)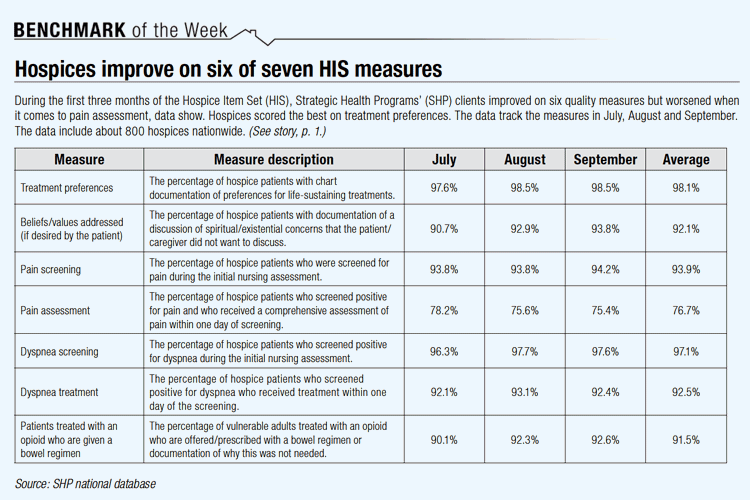 That's disappointing because conducting and documenting pain assessments should be routine process in a hospice, says Katie Wehri, hospice operations expert for the National Association for Home Care & Hospice. It is unclear why during the first three months of the HIS, hospices got worse at pain assessment documentation, Rosenblum says. "This particular measure has more moving parts, and thus has more opportunity for things to slip through the cracks." HIS data must be submitted to CMS for every patient admitted or discharged on or after July 1. The penalty for not submitting HIS forms correctly in 2014 is a 2-percentage-point reduction in a hospice's applicable market basket update for fiscal year 2016 (HHL 6/9/14).
Why are pain assessments an issue?
The pain assessment measure captures the percentage of hospice patients who screened positive for pain and who received a comprehensive assessment of pain within a day of screening. At least five of the following characteristics must be assessed and documented, according to CMS: Location of pain, severity of pain, character, duration, frequency, what relieves or worsens the pain and what is the effect on function or quality of life.About 3% of the time, an assessment is completed and no characteristics are included. And 0.5% of the time, pain assessments are conducted outside the required timeframe.
Ways to improve on pain assessment
Explain to nurses that they must document responses within the medical record, likely on your standardized pain assessment form, Wehri says. It's possible they are asking the necessary questions but not writing everything down.
Print out HIS data and show clinicians that comprehensive pain assessment documentation is an issue. "Supervisors and quality improvement staff can pull the reports, share the results and ask for better compliance," Rosenblum recommends.
Make sure your electronic medical records vendor has all of the necessary pain assessment criteria listed. SHP has heard this sometimes this is an issue.
Observe and document where the pain is located, even if the patient has dementia and isn't able to communicate about the location of the pain. For instance, a patient might favor a certain side of her body and that observation should be documented, Wehri says. Make sure you conduct the assessment soon after screenings. The assessments must be performed within a day of screenings.
— Josh Poltilove (jpoltilove@decisionhealth.com)
Tags