In the CY 2019 Home Health Prospective System Rule Update, CMS finalized the ICD-10 codes that would be "acceptable" to use as a primary diagnosis code under the Patient-Driven Groupings Model (PDGM). CMS noted that they had reviewed industry comments on reasons why certain ICD-10 codes listed in the proposed rule as unacceptable should be allowed. In addition to the October 2018 ICD-10 updates, there are now an additional 4,878 diagnosis codes that have been classified as "acceptable".
...the term QE was absent from the proposed and final rules. CMS now refers to them only as "acceptable" or "unacceptable" codes.
Originally, when the Home Health Groupings Model (HHGM) was first proposed back in July 2017, CMS provided a table of all ICD-10 codes (64,676 in all) and mapped each code to the applicable HHGM clinical category, including the codes indicated as "Questionable Encounters" (QEs). The reasons for many QEs made sense. Below are a few examples:
the code is not pertinent to care provided in home health - (dental codes are not Medicare covered services);
the code is too vague and not specific enough - (Muscle weakness, generalized M62.81);
the underlying condition should be listed first according to coding convention - Aftercare following joint replacement surgery (Z47.1) with Presence of artificial left knee joint (Z96.652) as secondary
After HHGM was pulled from the final rule that year, and PDGM became the new model, the term QE was absent from the proposed and final rules. CMS now refers to them only as "acceptable" or "unacceptable" codes. CMS is now only showing the 43,287 acceptable codes in their Grouper Tool under the "ICD10 DXs" excel tab. CMS did note that some "unspecified" codes could still be used. For example, one of the codes they reclassified as "acceptable" — Urinary tract infection, site not specified (N39.0) — is often the primary diagnosis code. It was present on 1.5% of SHP's Medicare Traditional payment episodes that started in 2018 (out of 4.3m episodes).
Across the industry, there has understandably been a heightened concern related to training staff to identify "unacceptable codes" well in advance of the start of PDGM. If you attempt to bill without a proper code, the grouper program cannot assign a PDGM Clinical Category, and the claim will be returned to the provider (RTP). Although codes classified as "unacceptable" can still be used today, there are some providers who have stopped using them altogether, while others are planning on making changes closer to the end of the year. In the end, it will be important to educate the physician on these new requirements, since they are the ones to sign the plans of care (POCs).
I wanted to see if agencies are already making changes to their coding practices in preparation for this upcoming change. In looking at our national database**, I noted some interesting trends. First, agencies have made progress in reducing the number of unacceptable codes over the last two years. Secondly, when the proposed rules for both HHGM and PDGM were issued in July, we noted a significant decline in the following months as agencies reacted to the rulings. (See chart below). Currently, the run rate is around 12.5%.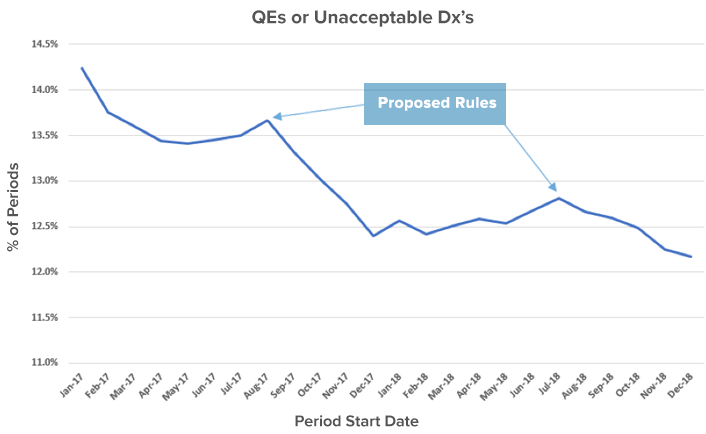 **8.7 million PPS episodes in 2017 and 2018
To help our customers track and monitor patient assessments that contain "unacceptable" ICD-10 codes, SHP will soon be releasing an informational alert as part of our OASIS scrubbing. Customers can then track their progress as they head toward the start of PDGM.
Did you miss our recent webinar on PDGM?
You can watch it on-demand here:
Tags