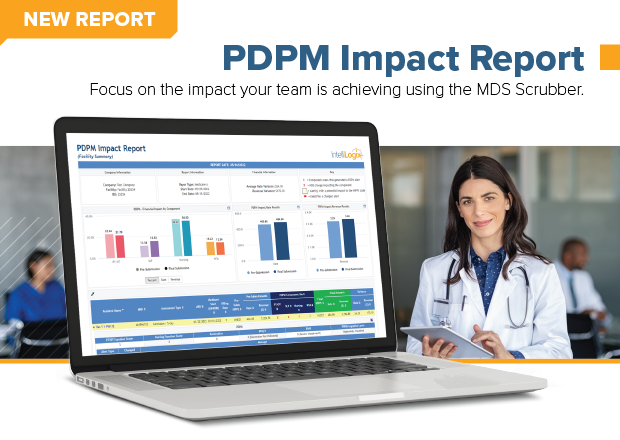 The new PDPM Impact Report is here.
The latest IntelliLogix™ update is designed to allow skilled nursing facilities to see the financial impact realized from MDS Scrubber utilization for PPS assessments. It also allows the user to drill down into specific facilities and resident detail highlighting resident characteristics and alert changes.
Here are the key areas where our customers are reaping the biggest benefits.
Measuring ROI (Return on Investment)
With the new Impact Report, SHP customers can measure the actual financial gains realized in Medicare reimbursement between the initial MDS scrubbing and the final submission of the assessment. MDS nurses can now see the direct impact of clinical decisions by reviewing the scrubber report and re-evaluating the PDPM alert messages.
Engagement
Users can audit how the PDPM Medicare Alerts are being used and review who is exceling in using the scrubber versus who is "paper compliant."
Opportunities for Improvement
The new report reveals alerts most closely linked to a financial impact with highlighted back shading to identify potential educational or revenue opportunities.
To learn more about how the PDPM Impact Report can help your organization understand and maximize its ROI, request a demo.
Tags