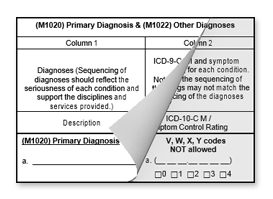 The implementation of ICD-10 and OASIS-C1 is a mere eight months away. Agency leadership is wise to be concerned, but no one should panic. That can be a difficult thing to do with all the hype out there. Here's some food for thought that might help you save some money (much needed in 2014) as you prepare for the transitions.
OASIS-C1 changes are actually minimal. You should have no trouble handling staff education internally. Take advantage of the many educational Webinars and conferences put on by consulting firms, vendors, state associations, etc. There's no need to re-invent the wheel. If you use an "OASIS Scrubber," the education and monitoring are built into the program, giving you another layer of protection. (Sorry for the shameful self-promotion there.)

ICD-10 is a horse of a different color in terms of complexity. CMS suggests your coders get approximately 16 hours of training. Remember that when coders are in training, their absence means they won't be coding. So, plan for that up front. Don't skimp on training – make the investment and protect your revenue. Again, if you're using an "OASIS Scrubber," you'll have another level of ongoing education, monitoring and protection.

Coming in early Q2, SHP is releasing a report that shows an agency's most frequently used ICD-9 payment diagnoses, and the associated ICD-10 conversions. The report will look at both individual ICD-9 codes and "code clusters" to provide the greatest possible accuracy in the code conversion and to educate staff on how this process works. It also will indicate which of the cross walked codes qualify for case mix points (often an ICD-9 payment code will equate to multiple ICD-10 codes, only some of which qualify for case mix points.

Resist the initial temptation to outsource your coding. Outsourced coding is one solution, but it's expensive. It complicates workflow and often times slows your time to RAP (not good for cash flow). If you insist on outsourcing your coding, we're very accustomed to working with those organizations in a complementary manner. In fact, we've come to find out that many of those firms use the SHP software on their clients' behalf.
I'll have much more on an ICD-10 and OASIS-C1 in upcoming blogs. So, keep calm, carry on and stay tuned!
Tags