On August 29, 2014, the Centers for Medicare and Medicaid Services (CMS) conditionally approved Strategic Healthcare Programs (SHP) to administer the CAHPS® Hospice survey. Following months of intensive preparation, SHP began providing survey administration for early adopters on September 1, 2014. Now SHP's hospice clients can identify their improvement opportunities long before the CAHPS® Hospice go-live date.
SHP supports a suite of interactive real-time CAHPS® Hospice satisfaction survey analysis reports. All survey data, including family/caregiver hand written comments, are available immediately and scores are ranked against the industry's largest benchmark.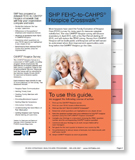 Most hospices have used the Family Evaluation of Hospice Care (FEHC) survey for many years to measure caregiver satisfaction. SHP has prepared a detailed, unique in the industry FEHC-to-CAHPS® Hospice Crosswalk to help hospices using FEHC to immediately transition to CAHPS® Hospice by comparing the similarities and differences between the two surveys, understanding which measures will be publicly reported, and using benchmarks from national FEHC scores to help identify areas for improvement. Available only from SHP, you can download the FEHC-to-CAHPS® Hospice Crosswalk here.

For more information on how SHP's CAHPS® Hospice satisfaction survey capability and HQRP reports can help your hospice, click here or call (805) 963-9446.
Tags