The 2017 final rule for the Medicare Hospice payment and quality reporting requirements was issued in the Federal Register on August 5th, 2016. As expected, most of the Centers for Medicare & Medicaid's (CMS) April proposal will be implemented for the fiscal year that begins October 1st, 2016. In the rule, CMS notes that public reporting of the Hospice Item Set (HIS) and Consumer Assessment of Healthcare Providers and Systems (CAHPS®) Hospice Survey will begin in CY 2017, likely in the spring or summer. In a recent blog, we shared how hospices were performing with HIS. Now that a full year of CAHPS Hospice data from the SHP database is available, we would like to share those results with you as well.
In reviewing trended data for the 11 CAHPS Hospice quality measures across the 4 quarters from April 2015 March 2016, the industry scores are relatively flat and unchanged. The scores suggest that there has not been a lot of improvement or change during the first 12 months of CAHPS Hospice survey administration. The graph below shows the quarterly trends for the Overall Rating and Recommend Hospice questions along with the overall rollup score for the 11 composite measures combined.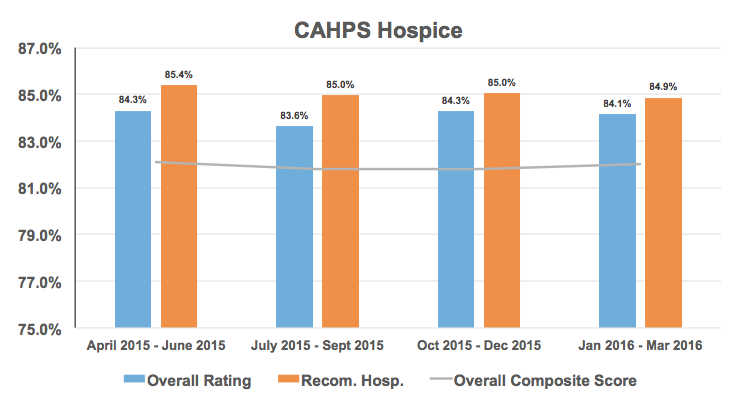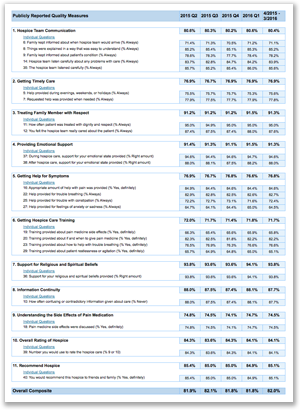 Click to Enlarge
Table 1: 2015-2016 CAHPS Hospice Scores Trended Quarterly
While the scores may be relatively flat, there are large differences between the composites themselves. The highest rate was for the Support for Religious and Spiritual Beliefs composite at 93.8%, and the lowest rate was Getting Hospice Care Training at 71.7%, more than a twenty percentage point difference. Among individual questions, the highest score was for How often patient was treated with dignity and respect (95.0%) and the lowest was Help Provided for Feelings of Anxiety or Sadness (64.5%). See the results for each individual question in Table 1.
CMS noted in the rule that the CAHPS Hospice Survey will be reported on an eight-quarter rolling average, although initially fewer quarters will be reported as they ramp up. CMS usually delays a quarter or two when new quality initiatives commence, so with four quarters completed, your scores today will likely be included in public reporting for up to the next two years. We urge you to spend the time now to identify your weak points, and then put together a quality improvement plan to increase your scores before they are publicly reported.
Tags