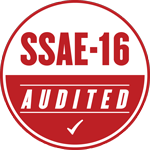 Now that the HIPAA Mega Rule is a reality, giving your vendors the benefit of the doubt is no longer an option. Any vendor you send protected health information (PHI) to must be able to prove that they are worthy of your trust.
SHP continues to lead the industry in security practices, and we're pleased to announce that we have completed our SSAE-16 audit. The SSAE-16 audit found SHP to be compliant with nationally recognized standards and we were issued a clean audit report free of any exceptions.
What's an SSAE-16 Type II audit and what does it mean to you? It's a voluntary, advanced audit within a nationally recognized standard that's done by a third party and focuses on how well our team follows specific procedures that ensure data security, environmental safeguards, preventive maintenance, network availability, and customer support for our clients and organization. In other words, our data is safe at SHP!
Tags