Download FREE WHITEPAPER: Competitive Advantage through Accountability
Your staff holds the purse strings to your company's bank account. In other words, "OASIS = Invoice." With the current and looming CMS PPS challenges, staff accountability is more important than ever. The new SHP Clinician Scorecard™ 2.0 and all the reports it links to make your job so much easier and it's unlike any other kind of reporting functionality currently available from SHP. We've innovated again, just in time to help you meet the 2011 industry challenges.
What will the Clinician Scorecard™ tell you about a specific clinician's performance? Let's say that your nurse, Mary Jones, has poor Home Health Compare outcomes and HHCAHPS scores. Now what? What's behind that information?
The color-coded scores allow quick identification of the areas Mary is struggling with the most.
These drill down to the Outcomes Patient Detail™ report for a complete list of the patients that contributed to the poor scores.
From there click then patient names to see every important detail of the episodes

–

 Episode Einstein™.
Are the SHP OASIS scrubbing software suggestions being faithfully reviewed and acted upon by Mary? The scorecard will tell you this.
Are there specific HHCAHPS questions where Mary consistently has poor ratings? The scorecard tells you this as well.
By now you should know exactly what issues are bringing down Mary's scores and bringing down your agency's revenue.
Set clear, measureable expectations for improvement. Provide education where needed. Re-visit Mary's scorecard monthly.
 Here are some tips to getting the most out of these new reports:
Run the SHP Clinician Overview™ report for the past six months (or less). This time frame gives you a good picture of recent performance with a large enough sampling of patients to render the data statistically accurate.
Look for the most problematic clinicians: The red and green shading helps you quickly identify these. Focus your efforts on these clinicians first so you can "stop the bleeding."
When you have identified clinicians for closer review, simply click their names to drill down and you will be taken to the Clinician Scorecard™ for more detail.
On the Clinician Scorecard™, a series of drill down tools lets you analyze problems at their root (specific patients; entire episodes) and even click through to the Episode Einstein™ report.
If you want to run these reports for your Case Managers and Teams, these same powerful tools are available.
Accountability is essential. With the new interactive staff Overview and Scorecard reports no piece of information remains a mystery. This new generation of the Clinician Scorecard™ officially renders it a "killer app." For more information, contact us at support@SHPdata.com or (805) 963-9446.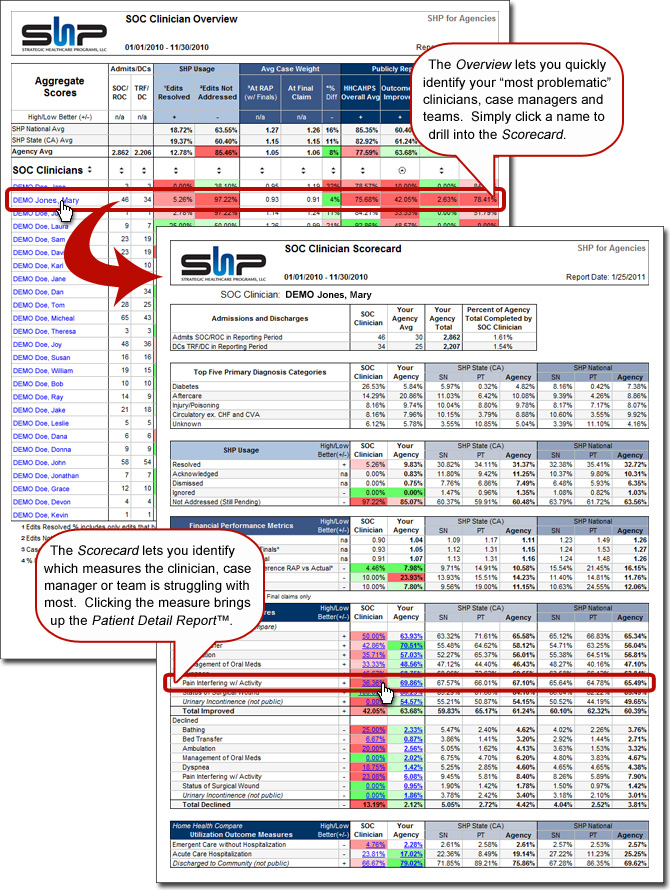 ---
Tags