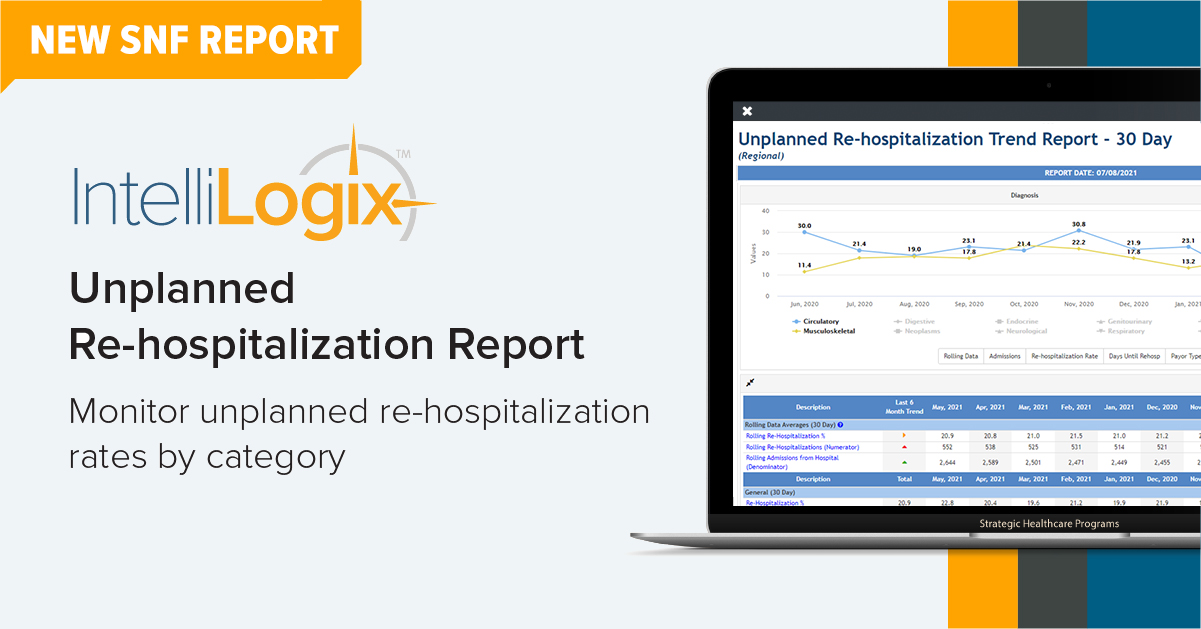 SHP is excited to announce a valuable new report available in our IntelliLogix™ solution for skilled nursing facilities. The Unplanned Re-hospitalization Trend Report is a must-have for organizations working to understand and improve their unplanned re-hospitalization rates. The report is designed to help facilities:  
Easily review and dissect unplanned re-hospitalizations in-depth and over time
Monitor unplanned re-hospitalizations by clinical diagnostic categories
Pin-point factors impacting re-hospitalizations at the resident level
Identify the best course of action for improvement with interventional analytics
The report can be run for either 30 Day (non-risk adjusted; all payer types included) or for Short Stay – CMS QM (risk adjusted, Medicare only) to allow for in depth analysis and review of unplanned re-hospitalizations. Clinical diagnostic categories provide system focused review to allow for greater differentiation between clinical conditions and are tied directly to reason for admission to the facility. Review re-hospitalization trends and totals by day, diagnosis, payor type, planned, corporation, division, region, individual facility, individual residents, and more.
Transparency at the resident level allows for evaluating the individual resident to determine preventability and factors impacting re-hospitalizations. Interventional analytics help to identify the best course of action to facilitate improvement.
Request a Demo to See it in Action