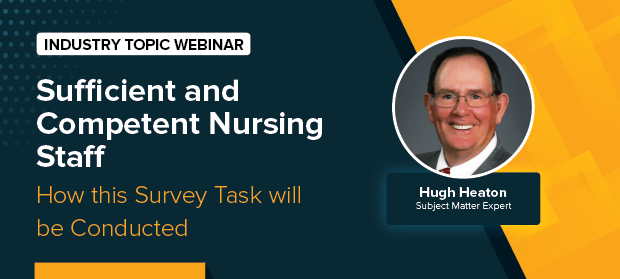 Join us for a free webinar where Hugh Heaton, subject matter expert as he presents a comprehensive overview of how the Sufficient and Competent Nursing Staff survey task will be conducted.
Learning Objectives - Upon completion of this training session, participants will have a working knowledge of:
How the PBJ Staffing Data Report is used in the survey process.
What triggers a Sufficient and Competent Nurse Staffing review.
When and how the staffing and competency regulatory compliance process is conducted.
Who the survey team interviews to determine facility compliance with the staffing and competency requirements.
What Observations alert the survey team to potential concerns with sufficient or competent staff?
What questions are asked those individuals being interviewed.
Which facility records, reports, and specific policies are reviewed during the survey process.
The staff interview process if an RN is not present at least 8 hours per day or Licensed Nurses are not present 24 hours per day.
What triggers a review of personnel and training records.
Critical Elements that must be reviewed to determine facility compliance with sufficient and competent nurse staffing regulatory requirements.
Other tags, care areas, and tasks the survey team may consider during the survey process.
Resources: - Participants will receive three (3) helpful resources which includes:
Training session outline
Revised regulations at F725-F732 (Nursing Services), F838 (Facility Assessment), F839 (Staff Qualifications, F851 (Payroll Based Journal), F947 and F948 (Training Requirements)
PBJ Policy Manual
Who Should Participate:
CEOs, Administrators, DONs, Staff Development Coordinators, Staff involved in PBJ Reporting, and other management team members.