On March 18, 2020 the Center for Medicare and Medicaid Services (CMS) announced that the draft OASIS-E instrument is now available on their OASIS Data Sets webpage. All clinical assessments will use the new tool as of January 1, 2021. This is not a surprise as it had been finalized in the prior year's rule making. Next steps include approval by the Office of Management and Budget (OMB), the preparation of technical specifications, and the provision of industry guidance manuals with Q&As on how to answer the new questions.
As part of the IMPACT Act, CMS has been updating OASIS data elements to enable post-acute care (PAC) providers to report standardized patient assessment data, new quality measures, and data on resource utilization. The intent is interoperability which allows for the exchange of data using common standards and definitions, facilitates coordinated care, and improves outcomes for Medicare beneficiaries.
This is the third time in three years CMS is updating the OASIS and it comes with some major changes to accommodate the new Standardized Patient Assessment Data Elements (SPADEs). CMS originally planned to add these new elements under OASIS-D, but CMS opted to only add two new sections: GG - Functional Status (Mobility and Self Care) and J-Incidence of major falls, due to the industry pushback on the magnitude of the changes from that revision.
Under OASIS-E, the new categories will include: 
Cognitive function and mental status data
Special services, treatments and interventions data
Medical condition and comorbidity data
Impairment data
Social determinants of health
Data for cross-setting transfer of health information
There will be 44 OASIS items changing (39 new, 1 removed, 4 replaced) with 159 data elements changing in this revision.
As I noted in a recent blog, the one M-Item that CMS is removing is M1242 – Frequency of Pain Interfering with Patients Activities or Movement ("Pain"). Regarding the new SPADEs, the ones I am most interested in are the Social Determinants of Health (SDOH) elements due to the ramifications they have in improving outcome risk-adjustments in the future. As with the other SPADE elements, the new coding taxonomy is beginning to look like alphabet soup. The SDOH elements includes:
A1005: Ethnicity (replaces M0140: Race/Ethnicity)
A1010: Race (replaces M0140: Race/Ethnicity) 
B1300: Health Literacy (new) 
A1250: Transportation (new)
A1110: Language (new)
D0700: Social Isolation (new)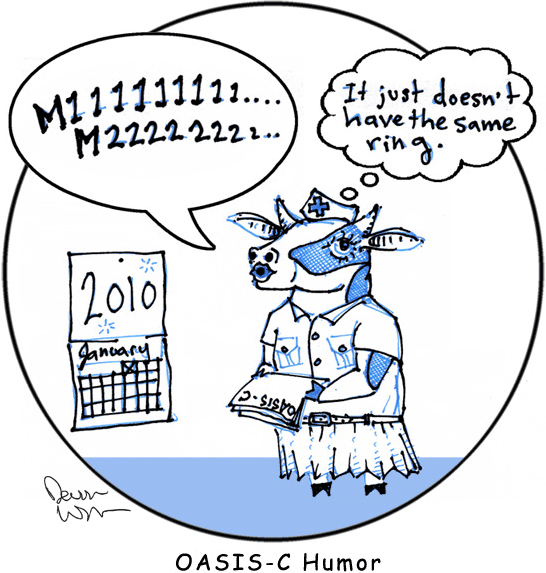 Ah, I remember when we only had "Moo" codes (M-Items) on the OASIS forms.
It may be interesting to note that for another PAC provider, Skilled Nursing Facilities (SNFs), CMS' proposed October 1, 2020 MDS v1.18.1 revision is being delayed due to stakeholder concerns. Depending on CMS' final reasoning, it may have an impact on the OASIS-E implementation date. We will have to wait and see.
Tags