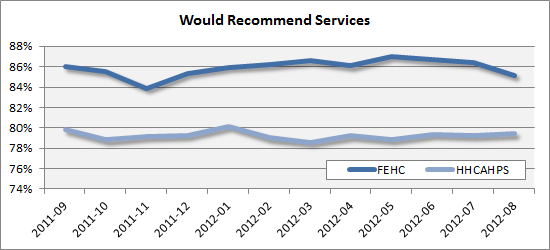 We thought it would be interesting to take the question from HHCAHPS and FEHC that indicates how likely a patient or family member is to recommend the agency's services to someone and compare them. It's important to point out that the FEHC survey reflects the view of the caregiver, whereas HHCAHPS reflects the views of the patient.
We didn't expect there to be much difference in the results, but we were surprised to learn that there was a 6 percent spread between home health and hospice, with hospice rating higher than home health. We thought it was interesting and just wanted to share that with you.
The following chart shows the percentage of respondents who answered these questions with the top box response, definitely yes, each month from September 2011 through August 2012.
Tags