With the HHCAHPS Dry Run behind us, CMS fully expects all technical glitches between vendor and home care agency to be resolved. By now, you should have a good idea where your improvement opportunities lie, along with a clear plan for remediation.
What have we learned about patient satisfaction in 2010 that you can leverage to improve your scores in 2011?
Scores are steadily improving over time. Therefore, run your SHP HHCAHPS report for the last quarter or month, not merely year-to-date. You'll likely find that your scores are starting to improve. Remember, interpersonal communication is determined to be the single most important contributor to patient satisfaction.
Some agencies with stellar outcomes can have poor HHCAHPS scores. If this is the case for you, take the necessary time to use the SHP drill-down tools to identify the exact problem. In general, problems can be isolated to a particular area or a few problematic staff members.
An area that many agencies struggle with is Medication Management. Three of the questions on the HHCAHPS survey address Medication Management, so problems in this area can really drag drown your scores. Determine if the problem is related to Therapy cases where rehab staff members make most of the visits. If so, you've identified where to direct your staff education. Use the SHP Clinician Scorecard™ to identify particular clinicians struggling in this area. We recently found a great handout published by CHAMP that can be of assistance to you in educating your staff.
Patient comments are invaluable, and they often times highlight a problem that wouldn't have been identified by the HHCAHPS survey questions alone. Take time to read the comments and then use the data. Print out favorable patient comments and put them in the employee's personnel file. As important, print out unfavorable patient comments and utilize them to immediately counsel staff members. These documents can be used later during employee reviews and merit increase considerations. Hold staff accountable.
The larger an organization, the harder it is to manage. However, several of our very large clients demonstrate superb HHCAHPS scores despite their size; once again proving that size doesn't necessarily matter.
The SHP graph below shows how scores are starting to improve over time, even in the problematic area of Medication Management and the three questions pertaining to that specific patient care topic.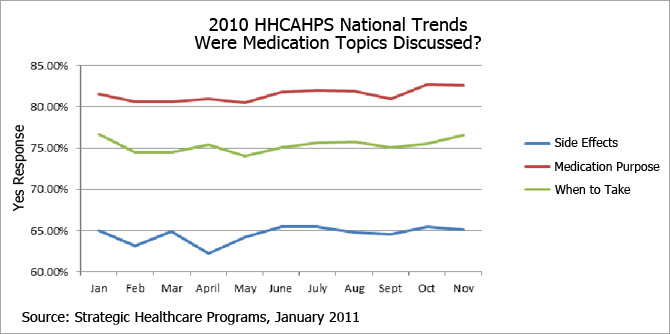 Tags