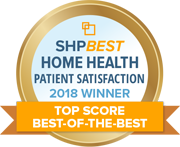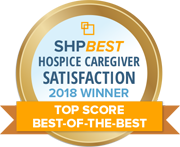 #SHPBest
SHP would like to extend our most sincere congratulations to the 2018 SHPBest ™ award winners. We recognize these organizations for their outstanding performance in HHCAHPS patient satisfaction or CAHPS Hospice caregiver satisfaction.
The 2018 award recipients were determined by reviewing and ranking the overall satisfaction score for more than 2,500 home health providers and over 1,000 hospice providers. The providers with the highest overall score of all eligible SHP clients during the 2018 calendar year, for both HHCAHPS and CAHPS Hospice, receive the Best-of-the-Best award.
We are pleased to announce this year's winners:
HHCAHPS Best-of-the-Best:
Excellent Care Home Health Services, Inc (Rancho Cucamonga, CA)
CAHPS Hospice Best-of-the-Best:
Twin County Hospice (Galax, VA)
In addition to the Best-of-the-Best award, SHP has awarded the Premier Performer status to providers ranked in the top 5%, and the Superior Performer award to providers ranked in the top 20%. Along with the overall satisfaction score requirements mentioned above, all award recipients must have scored better than or equal to the SHP national average throughout the period for each of the publicly reported quality measure domains.
More detail about the specific methodology used for each award is linked below.
2018 SHPBest HHCAHPS Methodology 
2018 SHPBest CAHPS Hospice Methodology
You can find the complete list of 2018 SHPBest award recipients for each award below.
2018 SHPBest HHCAHPS Award Recipient List
2018 SHPBest CAHPS Hospice Award Recipient List
In its third year, the annual SHPBest ™ recognition program was created to honor home health and hospice providers that have made patient and caregiver satisfaction a priority and have received high marks on their satisfaction surveys as a result. With well over 6,500 combined home health and hospice locations on service, SHP is in a unique position to identify and commend organizations that consistently provide high quality service.
With increasing excellence expected of the post-acute industry in today's landscape of transparency and quality, it is more important than ever that home health and hospice providers prioritize performance improvement. We are proud to have quality-focused organizations as part of the SHP family and applaud our top-performing customers for their hard work and dedication. The level of care and commitment to quality these top-performing SHP clients display is reflected in the feedback shared by their patients.
Tags