SHP is pleased to announce the 2021 SHP Best-of-the-Best winners, who have achieved the highest overall HHCAHPS patient satisfaction or CAHPS Hospice caregiver satisfaction scores of all eligible SHP clients during the 2021 calendar year. This year's winners are:
HHCAHPS Best-of-the-Best: Easi Home Health Care, Inc
(Mission Hills, CA)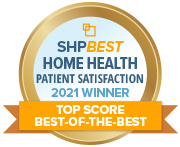 CAHPS Hospice Best-of-the-Best:
Heartland Hospice Services, LLC
(Topeka, KS)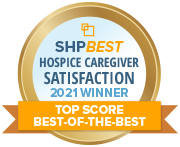 In its fourth year, the annual SHPBest™ award program (#SHPBest) was created to recognize home health and hospice providers that consistently provide outstanding performance in patient and caregiver satisfaction. With well over 6,500 combined HHCAHPS and CAHPS Hospice locations on service, SHP is in a unique position to identify and acknowledge organizations that have prioritized high-quality service and have been rewarded for their efforts with exemplary survey scores.
The 2021 SHPBest award recipients were determined by reviewing and ranking the overall satisfaction score for more than 3,000 home health providers and over 1,400 hospice providers. The providers with the best overall scores for both HHCAHPS and CAHPS Hospice receive the Best-of-the-Best Award. In addition to the Best-of-the-Best award, SHP has awarded the Premier Performer award to providers ranked in the top 5%, and the Superior Performer award to providers ranked in the top 20%.
For more details about the specific methodology used for each award, see below:
2021 SHPBest HHCAHPS Methodology 
2021 SHPBest CAHPS Hospice Methodology
For a complete list of 2021 SHPBest award recipients for each award, see below:
2021 SHPBest HHCAHPS Award Recipient List
2021 SHPBest CAHPS Hospice Award Recipient List
We know how challenging it is to deliver high-quality care in today's complex post-acute landscape where increasing excellence is expected, and we commend our customers for your continued dedication, compassion, and commitment to your patients.
We are proud to have hard-working, quality-conscious organizations as part of the SHP family and extend our most sincere congratulations to the 2021 top-performing clients.
Tags