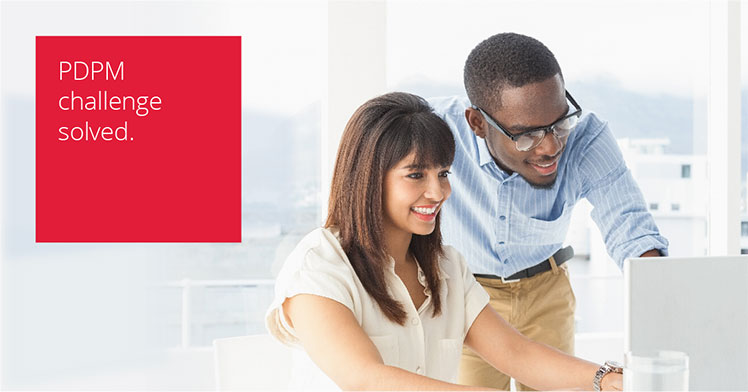 PDPM is Here―and Clinical Data is the Key to Your Success!
Learn more about our PDPM tools
Unlock your PDPM potential by understanding, identifying and recognizing the path for accurate MDS assessments that reflect the resident's clinical condition and care provided.

Our PDPM Navigator™ Tool* is the most valuable PDPM game changer to date. Learn more about ICD-10 to PDPM coding in minutes what it would take months to learn in education courses.

Knowing which ICD-10 codes to use.

Our ICD-10 Optimizer guides you to codes that best fit resident's clinical and financial condition.

Our MDS Scrubber identifies ICD-10 diagnoses used on the 5-day MDS and links to the IntelliLogix™ ICD-10 Advisor directly from the report. See immediately which codes have PDPM correlation and if there is a more optimal ICD-10 Diagnosis Code for I8000A.

Centralizing information to make the best decision.

Our MDS integration centralizes prior history, optimal coding, QM impacts and coding accuracy and saves time.

We support you with free training webinars that help you understand the key components of Team TSI's PDPM enhancements as well as the many tools to help you succeed in your PDPM program.

What's next after October 1st?

We stay ahead of industry changes. Our industry webinars and weekly trainings assist in keeping you aware of PDPM changes–even after October 1st.

We have tracking tools to ensure IPAs are completed for all residents with Medicare Part A and therapy tracking is coded accurately on Discharge EOS assessments. The ARC tool shows PDPM rates alongside RUG rates for educational purposes.

Tracking IPA, pre-coding, auditing and action planning.

IntelliLogix™ provides tools to ensure IPA tracking, PDPM pre- and post-audit prep as well as prepare an action plan.