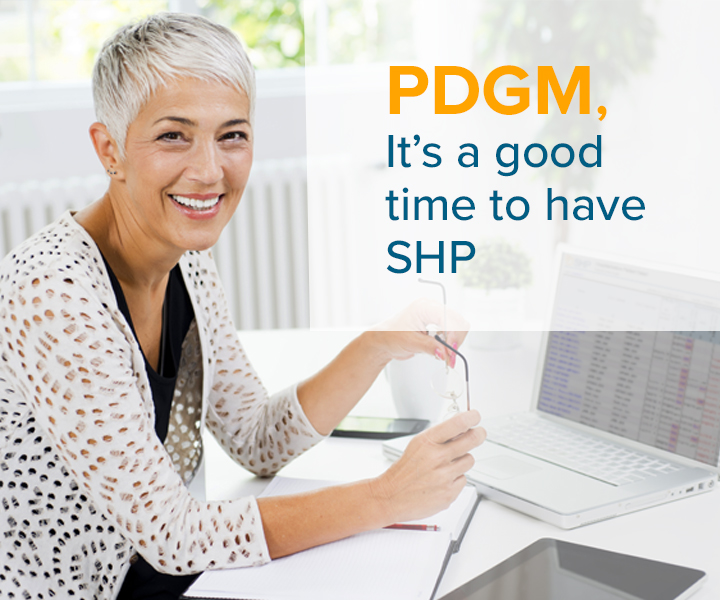 The Patient-Driven Groupings Model (PDGM) is in full effect and is already bringing sweeping changes to the way the home health industry is approaching care. SHP has been working hard to provide the tools that will help you understand performance, increase efficiency, and maximize margin under the new payment model.
Our new reporting suite helps clinical and financial managers answer questions such as:
How does my agency's PDGM performance compare to the competition, and why?
Why is my profitability different among my agency's 5 branches? What factors are contributing to my high or low margins?
Why is our agency's LUPA rate higher than the SHP benchmark? How can I identify potentially-preventable LUPAs?
Am I missing out on any potential revenue within the PDGM components?
Which of my patients or clinicians have the right balance of low cost and high outcomes? What are some best practices to achieve this?
How does visit length and frequency correlate to outcomes and hospitalization rates?
Looking for more details on how our PDGM reports can help you?
Fill out the form below to speak with us.
New PDGM Performance Reporting Suite
The visibility you need to thrive under the new payment model.
Patient Stay and Period Reports
View patient data within PDGM Core Categories at the home health stay level, and at the 30-day payment period level. Better manage visit utilization, track LUPAs, analyze margin and collaborate. Learn more »
Get a complete view of your PDGM performance and identify key focal areas for improvement. Make informed decisions with Quality, Operational, and Financial metrics under each of the PDGM Core Categories. Learn more »

Explore the variety of factors which contribute to the HHRG score for patients. Discover how each PDGM component may contribute to higher potential revenue with case-mix alerts. Learn more »

Our beloved Episode Einstein℠ report also just got a major upgrade to support the new payment model.
NEW PDGM Alerts
A host of new alerts help with common challenges under PDGM regarding clinical groupings, functional impairment differences, comorbidity adjustments, and more. Case-mix alerts highlight how each PDGM component may contribute to higher potential revenue.
PDGM Unacceptable Diagnosis Alert
Released in September

Notifies you when an "Questionable Encounter" primary diagnosis code is entered, so that you can make immediate corrections, save time and train staff. Learn more »

PDGM Educational Webinars
Easy-to-use
Automatic interfaces with most EHRs
Real-time view into performance with no delays
Drilldowns to individual locations, patients, clinicians
Largest benchmark database